Local Orchard All About Apples in September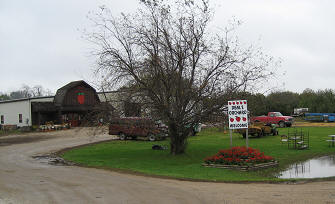 Deal's Orchard, located just outside Jefferson, is entering yet another fall apple season, excited about their apples. It was founded in 1917, by Frank Deal, described by his children, Jonathan and Baldwin, as similar to Johnny Appleseed, "without all the tree planting, and seeds and stuff".

We visited their establishment, and were treated to an array of apple fritters, apple pies, apple butter, apple cider, apple juice, apple jack, apple jelly, apple turnovers, apple sauce, caramel apples, candy apples, apple crisp, apple pancakes, and apple dumplings.

Orders can be placed over the phone, or on-line, as they are the new owners of a 2008 apple computer. Their orchard now sprawls over 45 acres, and new products are always being sought. Recently, their nephew Mac has begun marketing apple seeds as an alternative to sunflower seeds. As a trial, several hundred packets were shipped overseas to Uzbekistan. Unfortunately, no response has been forthcoming.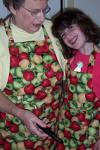 Their Apple Barn and Gift Shop is open much of the year, and features collectibles such as apple aprons, apple clocks, apple cards, apple towels, apple post cards, apple oven mitts, apple curtains, apple ashtrays, apple stationery, apple prints, apple tee shirts, and apple bumper stickers.

All members of the Deal family have a hand in the everyday operation of the orchard, even including 93-year-old Granny Smith. She is originally from Braeburn, Iowa.

When we caught up with her, we thought we'd ask how exciting it was to work with all these apples on a daily basis. "I can hardly wait for pumpkin season", was her reply.




Spencer Straight, 09-25-2008