Jefferson's Unchanging Newspaper

Some things never change. The liberty bell will always be cracked. The tower of London will always be haunted. And the Jefferson Bee and Herald will almost certainly always look the same way it did 40 years ago.

If you are lucky enough to own a copy of this publication from that bygone era of typewriters and dial phones, take a look at it. It is virtually identical in all respects to the current issues. The font is the same. The masthead is the same. It is still printed on the same size and type of paper, with the same old presses. No puff boxes, graphics, or layout changes.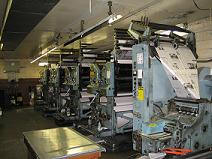 Yes, Jeffersonians can rest easy at night knowing that their beloved paper will not be entering the 21st century anytime soon. In fact, it appears that Rick Morain has spent his entire career applying all of his efforts toward maintaining what was there upon his arrival.

In building this web site, we have endeavored to obtain older photos of the Jefferson area. This is of great interest to our readers. Unfortunately, the Bee and Herald seems to lack the initiative required to make such photos readily accessible. This should come as no surprise, of course, to anybody who has searched in vain for a Bee and Herald web site. There is none. This makes it quite annoying for people who have moved to subscribe. Call them, send them a check(?), and they will send you papers.

Want a Carroll paper? Go to their web site. Want a Boone paper? Go to their web site. The Coon Rapids Enterprise? Even these guys have a web page.

Apparently the folks in Jefferson prefer a quaint reminder of the past to a progressive outlet for new ideas and imagination. Cancel my subscription.

Editor's Note - At the 2008 Iowa Newspaper Association Awards Banquet, the Carroll paper received 63 awards. The Jefferson Bee and Herald - 0. See the results by clicking here.

submitted by Rick Bland, editorial contributor