RECORD FISH CAUGHT NEAR MCMAHON ACCESS
The Iowa Department of Fish and Game has reported that Cuthbert Griswold, of rural Jefferson, recently claimed a record catch near McMahon Access on the Raccoon River. Mr. Griswold reports that he caught a 678 pound large mouth bass which measured approximately 26 feet long and actually capsized his canoe while he was attempting to transport it to shore.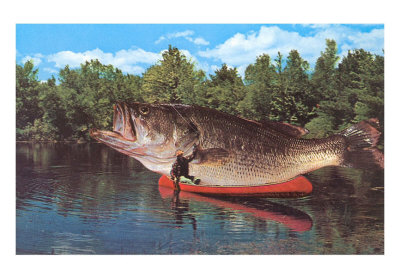 Shortly after this photo was taken, Mr. Griswold stated that his canoe capsized, and all was lost including his tackle and a six-pack of Milwaukee's Best. His wife, who took the snapshot from the shore, aided Cuthbert in landing the beast. For bait, he used a small sheep from his herd, and used the tow rope on his father's wrecker as the drag line.
This surpasses the previous record for large mouth bass, which is thought to be about 19 pounds and 32 inches in length. Mr. Griswold attributes this incredible disparity to the fact that sheep are often times overlooked as bait.
The giant fish put up quite a fight, and apparently broke through a 9" diameter woven steel cable before finally being hauled in using the hydraulics provided by the wrecker. Cuthbert states that he is fortunate that he captured the fish during low tide, and also feels very lucky to have escaped with his life.
During the four-hour long struggle to gain control of this remarkable catch, Mr. Griswold sustained several wounds, any one of which might have proven fatal. The beast fought hard and actually sheared off one of his legs below the knee and bit off his nose and his left hand.
Unfortunately for Mr. Griswold, he was already considered physically disabled due to an enlarged thyroid and will not be able to increase his government-provided benefits. He is OK with that, however, and says he was able to staunch the bleeding by using his wife's bra.
When his canoe capsized, the bass got away and remains at large for the next lucky angler to capture. Cuthbert will again seek to snare this creature after he recovers from his wounds.
Submitted by Rick Bland 05-24-08