Bigfoot And Friends Co-opt Parade

In large response to articles previously printed here at jeffersoniowanews, Bigfoot and several of his friends showed up in force at the annual Bell Tower Festival in Jefferson, marching in force toward the end of the parade. This was overlooked by most in the media, as they quickly lost interest after the last hay wagon passed.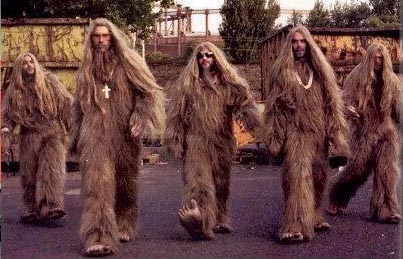 But to those bystanders who remained, they were treated to the spectacle of Bigfoot and his avid supporters bringing up the rear of the parade in number.

After being denied access to each and every class reunion float, Bigfoot gathered his family and closest supporters around and marched defiantly at the end of the parade. Our reporters were on hand to capture the moment, before retiring to Wet Goods with the rest of the media.

The number of Bigfoots topped 30, which surpassed most conventional reunion "floats" entered in the parade. Parade organizers are searching for the proper registration credentials necessary for this appearance; apparently none can be found.

Bigfoot and his entourage were thereby denied access to the Bistro and wine tasting events. However, in a show of brotherhood, Bigfoot was allowed to play bass Saturday night for the band Push.

Bigfoot will be making local appearances at the Pufferbilly Days festival in Boone, and also at the lucrative Sauerkraut Festival in Bouton, where his cousin is currently mayor.

Rick Bland, contributor