Bigfoot Bicycle Trail Now in Development Phase



Jeffersoniowanews has learned from a spokesperson with the Iowa Department of Public Works that federal funds have been secured for the development of the long-awaited "Bigfoot Bicycle Trail" through Greene County. Bigfoot originally came of with this concept several years ago, and thanks to his recent spate of publicity, its completion appears imminent.

A number of possible locations were considered throughout the state, but this particular route was chosen due to its utter lack of use by cars, trucks, and other vehicles. In fact, there was virtually no traffic observed using these roads at all.

The proposed route begins near Squirrel Hollow, travels north and west, splitting Jefferson by way of old Highway 30, and heads further north and west, ending at Hyde Park. When asked about the section of the route running through Jefferson, our spokesperson incredulously replied that their offices were under the impression, based on traffic patterns, that Jefferson was unoccupied and had been a "ghost town" for several years.

Nevertheless, the state hopes to promote physical fitness by means of bicycling as a hobby, and will spend nearly a billion dollars in promotional activities to increase the popularity of the venture.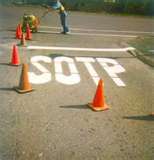 Most rural areas will be more or less unaffected by the change. However, within the town of Jefferson, some changes will be necessary. New signage will appear along some city streets aimed at insuring the safety of all bikers, as well as the occasional pedestrian. Restriping will also be required.

Also, several sections of designated city streets will be torn out, and replaced with new, narrower pathways designed exclusively for cyclists. A completion date has not yet been set. This will truly be a ground-breaking endeavor, as no other community has actually submitted to this much inconvenience for the sake of the physical interests of their citizens.




Rick Bland, contributor