The Jefferson Iowa News®
Jeffersoniowanews.com has learned that local business entrepreneur and city councilman Berrizag Blizmarraak has been tabbed as the likely choice for Hillary Clinton's running mate, should she go on to win the democratic nomination later this spring.
Mr. Blizmarraak would be a surprise selection, as earlier this year he was photographed campaigning for former New York mayor Rudy Guiliani.
Inside sources tell us that Ms. Clinton is basing her selection on the fact that Blizmarraak brings virtually no baggage with him to the campaign. He seems to have a pristine personal record, unlike other possible choices, or even Hillary herself. On top of this he has almost no voter recognition, and the electorate will not merely assume he is just another politician.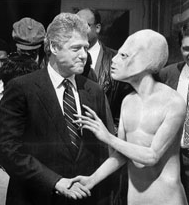 Our staff has also unearthed evidence that the relationship between Blizmarraak and the Clintons actually go back several years. Both apparently dated Monica Lewinsky briefly, although at separate times. Photos have surfaced recently which depict Bill Clinton and Blizmarraak in friendly embraces, swapping stories.
Mr. Blizmarraak resides south of Jefferson in the Squirrel Hollow area and is the sole owner of Blizmarraak's Rain Gutters.
When contacted about these developments, Blizmarraak was asked by our staff if he felt he was qualified to undertake this task, and if his own personal or family life would become a factor in his decision. Mr. Blizmarraak responded, in part, "My family did not accompany me on my ill-timed voyage to this planet. They are of no consequence in this race. My wives are well provided for and our offspring are still in their gestation period. It is useless for you to attempt contact with them. They have been programmed to not respond."
"This is a crucial time in the history of the earth. Many changes will be put in place in the near future which will affect the lives of all humans. It is important for you to do two things. First, vote for Hillary and my good friend Bill. Secondly, please acquire new, galvanized rain gutters for your residential structure. These can be located in downtown Jefferson at my business headquarters. We now have a lay-away plan for those unable to provide proper monetary payment at present. My current transmission has now ended."
Rick Bland, contributor