JSPC Unveils New Fall Football Recruits


Jeffersoniowanews has learned that the local high school coaching staff is bringing in two new football recruits this fall in an effort to secure a state 2A football championship.

Since JSPC was reclassified from 3A to 2A a few years back, their football teams have been perennial playoff contenders, and seem to be just a player or two away from bringing home the title. These new athletes both hail from Compton, CA, and are penciled in as the nexus of the Ram's offensive backfield this fall. They will be playing quarterback and fullback, providing their court dates go as planned.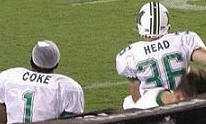 Within the next few weeks they should be arriving in Jefferson with their probation officers for a brief campus tour. The coaching staff informs us that high school players are eligible to complete while on probation, in most cases. Even though they are in their twenties, they have not used up one iota of their high school eligibility, and could presumably play four years.

One member of the coaching staff, who chose to remain anonymous, stated, "This is probably our best shot at winning a title. If this fails, our other viable option would be to do a lot of tedious redistricting, and lobby IHSAU for a reclassification to 1A or even maybe to eight-man football. We certainly would like our chances playing eleven against eight."

Our two as yet unnamed recruits are currently awaiting their release from a detention center near downtown Compton, which coaches describe as "an upscale suburb of LA".

It is somewhat unclear where they have been playing football, but both are described as "excellent runners"
who are incredibly hard to catch. More details will be published in these pages as they come in.



Deb Hoover, sports desk