15 Most-Missed Defunct Businesses Previously Located In Jefferson


1. Parker Industries

Parker Industries was a branch of an Indiana-based firm. They manufactured green wagon boxes for hauling grain, distributed throughout the Midwest. When they participated in the early Bell Tower Festivals they paraded these green wagons through town in a line at least a block long. They were located on Highway 30, in the building now occupied by Power Lift.


2.

Thermogray

Thermogray was a well-insulated, large-diameter water heater. It was promoted that it would operate at night when using electricity was much cheaper. The power company installed a special meter that would turn the units on and off. It was an idea of Percy Gray, an early businessman from Jefferson. It was located near the corner of Elm and McKinley. They operated in the 30's and 40's, and were sold to Pence Miller in the 50's. Eventually it was closed.





3.

Howard Iowa Products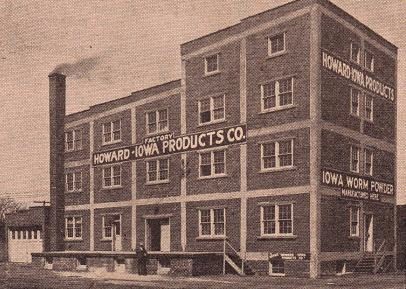 Howard Iowa Products was located in the white-washed two story building near the railroad tracks on North Elm. They provided mixed feed for livestock with vitamins and minerals added. The Howards' daughter Blythe married Jim Baldwin, who was also a member of the family business.








4.
Saba's Bakery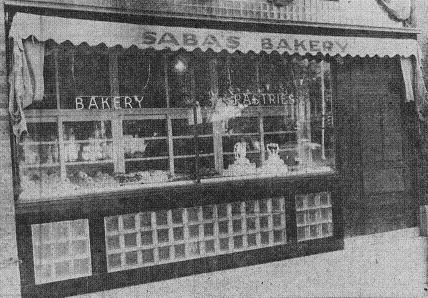 Saba's, also known as Golden Krust Bakery, was located on the east side of the square. It was owned by Saba Saba and his wife, Edna. They had a full line of delicious baked goods, including bread, cakes, and the very best doughnuts. Local paperboys always seemed to get a few free doughnuts on a daily basis. Two of Saba's bakers were Darrel Blackburn and Leo Smith.







5.
Safeway


Jefferson boasted a Safeway grocery Store from the forties until the early 70's located just north of the Law Enforcement Center on South Chestnut. It was gutted by fire twice due to lightning strikes and was twice rebuilt. The long-time manager was Darwin Moore, later Lynn Holsclaw. After Safeway downsized, the store continued on as Lynn's Supermarket, and lastly, Wayne's Market, owned by Wayne Shoesmith.



6.
The Jefferson Creamery




The Jefferson Creamery was owned and operated by Michael Brunner. They bought milk from local farmers, and processed it into pasteurized milk, cottage cheese, ice cream, and other dairy products. Their milk was delivered to homes in glass bottles which were recycled. It was later sold to Kern Elerick and Fritz Robinson. It was located at the corner of Wilson and Harrison, now the city parking lot.






7.
Imperial Diamond Company


The Imperial Diamond Company was owned by Frank Milligan. It was active in the 40's, during World War II. They advertised on a 100,000-watt radio station in Del Rio, TX, although the transmitter was in Mexico. They sold "genuine simulated diamond rings". They got so much mail that the Jefferson post office was declared a first-class post office. They also sold dresses and other items by mail. Many locals were hired to fulfill the orders.


8.
Chicago Rivet


Chicago Rivet was located on Central Avenue, one of three locations, the main factory being in Illinois. It was a very noisy place to work. Mike Chesler and Alice Nipps were involved in the plant operations, along with Don Lowmiller. They made rivets of all sizes, some small enough to be used in hearing aids. They also manufactured tire studs.


9.
KDLS Radio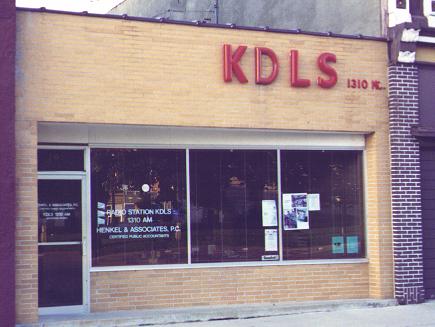 KDLS Radio was started in Perry, IA around 1960. They brought a branch studio to Jefferson in 1962, and the first station manager was Tom Carmody. Other managers included Bob Brown, Jim Dahl, Jerry Durlam, Gary Sandberg, Lynn Lehman, Doug Rieder, and Jerry Roberts. They sold advertising to local firms, and were on the air from 8AM - 9AM and from 1PM - 3PM. The studio was located at 102 East State Street on the square.






10.
Jefferson Bottling Company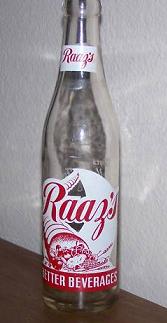 The Jefferson Bottling Works was owned by Kyb Raaz and was located in the 200 block of South Chestnut. While none of their names became famous, they had grape, strawberry, root beer, cream soda, and other flavors of soda pop. They went out of business in the 1950's.
11.
Jim's Super Valu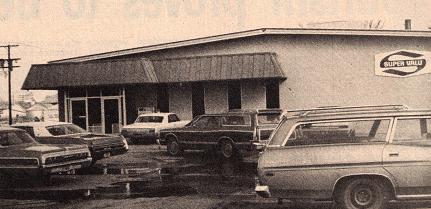 Jim's was started in the early 70's by Jim Schleisman. The store was constructed at 205 West McKinley. Later a deli and restaurant were added. They also boasted a bakery, catering services, and a full-service meat department. They were open 24 hours a day, including Sundays, for many years. It was closed when Fareway built in their present location on North Elm.






12.
Milligan Lumber Company


Milligan Lumber was located in the 200 block of South Wilson. Started by their father, the business was for years operated by sons Frank and Bob Milligan. They were in operation until the late 50's. They had a grain elevator as well located near the Greene County fairgrounds, operated by Alma Shorey Young.




13.
Durlam and Durlam's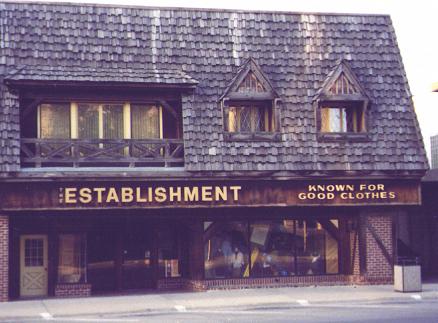 Oppenheimer Clothing was started by Julius Oppenheimer, joined later by his son Chester. Chester hired Loren Durlam and after a few years a partnership was formed. It was then renamed Oppenheimer and Durlam, with employees Fred Newindorp, Mike Durlam, and Jerry Durlam. Loren's son Dave took over the operation in later years. It was located at 110 East State Street, later expanding to a double-front, including 108 East State (formerly Schoppe's Cafe). They were purveyors of fine clothing for many generations. Owner Bob Ehrig later changed the name to The Establishment.






14.
Ideal Manufacturing


Ideal Manufacturing relocated in Jefferson from Des Moines. It was owned by Henry and Mary Stapleton. They manufactured steel tanks for watering livestock. It was located north on Highway 4 near Highway 30. After many years it was sold to Applegate Livestock Equipment, which continues as a smaller operation.


15.
Franklin Manufacturing Company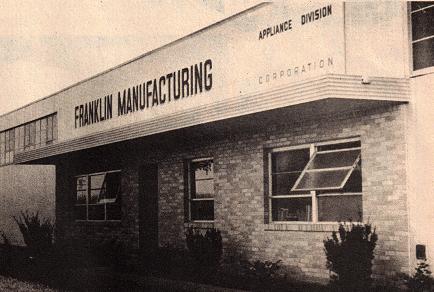 Franklin Manufacturing, located on East Central Street, was opened in the early 60's under the direction of engineer Mike Chesler. They specialized in the manufacture of washing machine transmissions, which Mr. Chesler originally designed. Operations there continued through the years, as the plant changed ownership several times, eventually being purchased by White Consolidated Industries, later White-Westinghouse, and finally Electrolux. It is slated for closing by 2011.

submitted by Braxton Hicks with Rick Bland