Vandals Defile Square With Graffiti


The Jefferson police department was overwhelmed Monday morning with several (4) phone calls from local elderly residents complaining about gang-style graffiti which had apparently been spray-painted on a downtown building. The "taggers" seemed to have spent their evening defacing the east side of the old JC Penney building.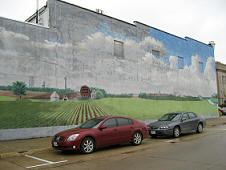 Local police and the sheriff's department were called in, and arrived on the scene several hours later. As this story goes to print, they are attempting to determine whether they should repaint the structure, or try to use industrial cleaner to remove the markings. Either way, the goal would be to restore the site to its original, dingy, gray-brown facade.

Local police have contacted FBI headquarters in Quantico, Virginia, in an effort to find out exactly what gang is associated with this particular graffiti style. An FBI spokesman refused to elaborate when questioned, stating simply that the markings "looked a lot like a cornfield" to him.

Events took yet another strange twist when local community leader Walt Unger went public with his observation that he felt that although it maybe hadn't been noticed, "that artwork has been on the side of that building for nearly forty years. Certain selected people in our community know that it is actually a treasure map, and some of us continue to try to follow its clues."

In fact, our crack team of mobile reporters has uncovered a previously-unnoticed work of graffiti sprayed on the front of the Elk's Club. When questioned about the similarities between the two, Mr. Unger stated that they were entirely different; the painting on the Elk's Club being vastly superior in style and quality to the work downtown.


Rick Bland, contributor