Local Man Offers New

High-Tech Movie Experience

Fed up with the high price of movie viewing at modern cineplexes and the price of gasoline required to get to them, local Jefferson resident Elmer Vincent Bagley, Jr. has devised a cutting-edge solution, which he hopes will catch on. Instead of saddling the consumer with the cost and inconvenience of seeking out these venues, he will soon be bringing movies directly to the consumer where they live.

Under Elmer's soon-to-be-patented plan, ordinary citizens will be able to view full-screen movies near their homes, without even leaving the comfort of their car! People will no longer be required to wait in line, or be packed into tight seating next to people they don't know. Nor will they have to park their vehicle and walk to a theater.

"It is absolutely mind-boggling that nobody has thought of this before!" states Mr. Bagley. "The technology is currently in place to make this project work - and I hope to put Jefferson at the front of it."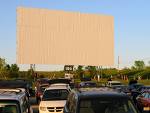 Mr. Bagley has constructed a gigantic viewing screen just south of town, and leveled out a parking area in front of it where movie-goers will be able to actually simply park their cars and view movies projected onto the screen. People will pay a fee upon entering the lot, and choose their parking location. Sound will be piped in to each individual vehicle by way of speakers, which will be cleverly located throughout the parking lot, and can be placed on drivers' side or passenger-side windows, when rolled part-way down.

Elmer will sell concessions from a booth near the rear of the lot, although it is expected that many patrons will simply be able to bring their own refreshments, as they choose. He has been able to reduce his overhead drastically by using pastureland he already owns and by not having to build complicated, sound-efficient buildings.

Although inclement weather may be a hazard, Elmer remains confident that his idea will catch on, especially among younger movie-goers, who prefer to spend there summer evenings in cars.


Spencer Straight, 03-20-2009