Jefferson Fire Chief Recognized in Unappreciated Role



By Tar Tarkus –



Luke "Total Loss" Murphy has been the Fire Chief in Jefferson for the past 37 years and his efforts have not gone unnoticed. "Total Loss" has overseen many controversial local events and has withstood the critics and continues to represent his community proudly. Mr. Murphy has been present on the cutting edge when many high-profile fires have occurred.

He was in charge of putting out the infamous "tire fires" in the early 80's. No property damage was incurred due to these unfortunate accidents. He personally took charge of the fire at the bowling alley south of town. He also was responsible for the fire started at the "pink" grade school.

Many other local fires which occurred over the years were dealt with by "Total Loss" Murphy. The building which used to be situated south of downtown and later was turned into Russell Park (named after Rich Russell), was unfortunately lost to a fire under his watch.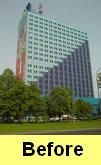 The large sky-rise apartment building that was previously situated on Washington and later turned into Washington Park was lost under his watch.

Luke "Total Loss" Murphy pioneered many modern fire-fighting techniques during his tenure. He was among the first to develop dynamite as a means of a fire break, insuring that surrounding property was not harmed by sudden fires. Unfortunately, this prevented the fire fighters from reaching the burning property.
Several local landmarks were lit under his watch in an effort to train local volunteers in modern fire fighting techniques. Each time, new landmarks emerged, and his efforts were redirected towards bureaucratic endeavors. He is currently considering the possibility of having his department work on weekends. That means that were your house to catch fire late Friday night, you would no longer have to wait until after 9:00AM on Monday for the firefighters to arrive, or until "Total Loss" was located at Bunker's Doughnuts.

His department is especially proud of several improvements, such as the fact that response time to fire calls has been reduced dramatically under his watch. Today, Jefferson citizens can take pride in the fact that a fire call will be answered on the same day.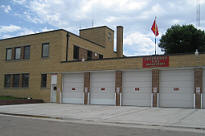 Also, he has made attempts to install nothing but the most modern, up-to-date equipment in Jefferson. The old "bucket brigades" have been replaced with new, modern bucket brigades. All fire hydrants in Jefferson are now actually connected to the city water supply, except certain properties north of the "tracks". "
Under Murphy's watch, although many local landmarks have been lost, the local fire department has continued to be a major Greene County employer. What was once a volunteer force now employs 23 full-time fire fighters and has the backing of three local insurance agencies.



Tars Tarkus