Entertainment Editor Remembers Frampton Visit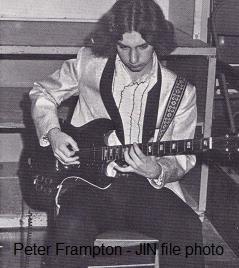 It was in 1975 on a warm summer evening when rocker Peter Frampton made his now-famous stop at Washington Park in Jefferson. The live recording of that event went on to become the largest-selling live album of its time - "Frampton Comes Alive". Jefferson Iowa News entertainment editor Max Siegel remembers it like it was yesterday. "Most of the younger folks around here probably don't even know about it," he states. "He set up those banks of speakers right between the shelter and the jungle gym. Over the years, many people have confused their facts. I actually had a guy tell me that he remembered it being the Steve Miller Band at Kelso Park."

"Frampton's "Show Me The Way" was inspired from his time in Jefferson. He wrote it while living above Seela's Hardware in 1974." It was also during this time period that Frampton developed his famous "talkbox" guitar technique. Siegel explains, "On the song "Do You Feel Like I Do" it was assumed he was saying 'I want to thank you' but what he was actually saying was 'Jefferson - affordable housing and an adequate education system'.

"Peter Frampton went on to experience a stellar career, but Jefferson can be proud that it all began here," adds Siegel.

Jefferson Iowa News was curious about this story, and we spent several months researching it. Unfortunately, we can find no evidence that Peter Frampton played in Jefferson, let alone lived here. We did however, unearth what may be the origins of this urban legend. In 1978, Hot Jam played a performance at the high school gym. It is easy to see how "Hot Jam" may have transformed into Peter Frampton or the Steve Miller Band over the years.


little-known fact: That's Peter Frampton playing guitar on Frankie Valle's hit song "Grease".


Submitted by Boyce Bailey (12-03-10)