Jefferson Braces For Hurricane Gustov


As Hurricane Gustov approaches the United States, local Jefferson residents are taking no chances. Preparations are furiously underway, as local residents attempt to secure their property and guarantee the safety of their families.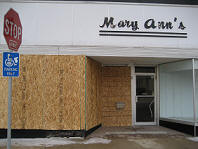 Currently, Gustov is centered about 65 miles west of Havana, moving northwest at 15 mph. It has become a very dangerous category 4 hurricane with maximum sustained winds near 150 mph. It is possible it could reach category 5 strength by landfall.

Rainfall amounts are locally approaching a foot, and some areas could see more than 20 inches by Sunday. The forecast track indicates that the storm will follow a path through the Gulf of Mexico and up the Mississippi River Valley, eventually taking it directly through the Jefferson area.

Banks and non-essential government services have been shut down in Jefferson as of last Wednesday, and don't plan on reopening for at least a week. Local authorities have stated that the Labor Day weekend provides a convenient vacation for businesses which preferred to close, anyway.

Many local business owners and residents hurried to cover their property with plywood, and at least 26 citizens were evacuated to nearby higher ground. These relocated citizens asked to be placed in FEMA trailers, preferably near New Orleans or Mobile, Alabama.



Local residents fortunate enough to have access to the weather channel are able to acknowledge the fact that hurricanes such as Gustov very rarely pass through the upper Midwest. Unfortunately, this includes only 3% of Jefferson's population.

Researchers have attempted to determine the last time a storm of this magnitude passed through the Jefferson area, but unfortunately it seems that records are not kept on a regular basis by the Bee and Herald, although our staff is vigorously digging through microfish at the public library.



Rick Bland, 08-30-2008