Mass Murderer Seen Inhabiting Hyde Park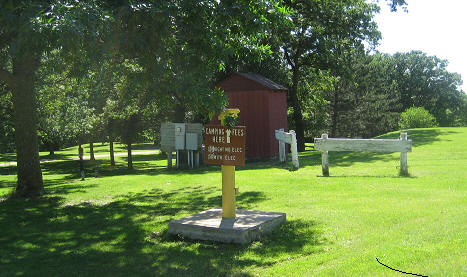 Jefferson Iowa News has recently been fielding numerous reports that a mass-murdering, axe-wielding vagrant has been spotted camping out at Hyde Park in northwest Greene County. This person is considered armed and extremely dangerous, and area residents are being asked to frequent the park only in groups. This warning should be treated as far more serious than last year's alert, when several members of Hell's Angels were spotted in the same area, burning human body parts.

Local officials remain unfazed, and so far have refused to go to the authorities with their suspicions. They are, at least at this point, more concerned with a possible downturn in park attendance. Our records, which are unofficial, show that so far this season, park attendance has been averaging about 0.2 visitors per month. This represents a 400% increase over the previous calendar year.

According to an unnamed Greene County parks employee, "Since there is basically no one else that uses that park, we don't think it is true to say the lunatic mass murderer is stalking victims. Right now he is just camping ... paying his fees ... and doing a good job of keeping his site clean. He did mention that the flies are a bit worse this year than expected, but the oaks look so beautiful this year that it easily makes up for the flies."

Once again, all potential park visitors should consider themselves forewarned, even though local parks and recreation officials have asked us to stress the fact that this particular lunatic has not yet been convicted of any local felonies and indeed comes from a locally well-known and respected family.

As a side note, we have been asked to mention that park fees have been reduced by half for the remainder of the season. Anyone wishing to camp overnight can pay their fees at the gate. Please do not pay your fees to anyone appearing confused or wielding an axe.


submitted by Rick Bland, city editor