Raccoon Valley Golf Course to Convert to Convenient Par Three

Jeffersoniowanews has learned that the Raccoon Valley Golf Course, located just south of Jefferson, will soon be converting to a par three-style course. It is hoped that the transition will be completed in time for the upcoming season.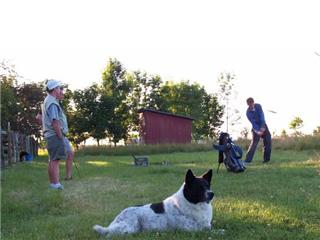 We have been informed that after watching most local golfers struggle with the high degree of difficulty currently encountered on the course, owners have determined that a par three course would more appropriately suit their abilities. Previously, the nine-hole layout was considered among the more technical courses in Greene County. This move will require extensive alterations to the current course. Many of the fairways will need to be considerably lengthened in order to meet the requirements of a par three course, and the size of several greens will have to be decreased.

In addition, grounds keepers are looking into planting trees that will actually grow in size over time. Previously, when a tree grew to an undesirable size, it was replaced by a more manageable, smaller sapling. If this course is to become successful, we are also being told that the rough may be grown to a height different from the actual fairways.



As if these changes weren't enough, additional features will be added to the course. The center of the golf course will feature a petting zoo, which will be accomplished by allowing local livestock to roam freely within a predetermined area. This will necessitate the purchase of several goats, a llama or two, and maybe a peacock.
When used in conjunction with the current supply of cattle, golfers will be treated to a uniquely Jefferson-style experience.

Owners expect that although local golfers' handicaps may be adversely affected at first, over time they will be able to adjust to the easier style of play.

Green fees are not expected to rise, as they apparently are already at levels that prohibit most local golfers from enjoying the course. Rather, they will be reduced and based on income so that all Greene County residents can participate.

Spencer Straight, sports editor