Local Man Unveils Nuclear-Powered Car

Jefferson Iowa News was in rural Greene County last Tuesday, having been tipped off to area farmer Carl Wurtz's plans to unveil his latest invention - a nuclear-powered car. Wurtz, a long-time Greene County resident, had been working on a prototype vehicle that was powered by a miniature nuclear reactor located in the trunk. He was hoping that this latest creation would prove to be the car that no longer depended on gasoline or oil, thus releasing us from the constraints of high fuel prices and gasoline taxes.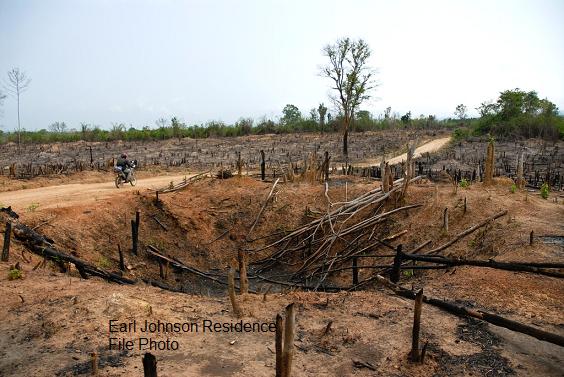 Wurtz, a farmer most of the time, had constructed a tiny nuclear reactor, and placed it in the rear of his vehicle. When the fuel was spent, he envisioned a time when a driver would stop at a service station and merely exchange the used up reactor for a new one, and the old one would then be recycled. The driver would be on his way in minutes, and with a thicker wallet to boot. The reactor would burn cleanly, and carbon exhaust and air pollution would become a thing of the past.

Unfortunately, our JIN reporter was unable to locate Mr. Wurtz. When we arrived at his address in rural Greene County, we either had the wrong location or the Wurtz family had completely disappeared, farm and all (photo at left). A brief search of the area revealed virtually nothing, with the exception of a group of turkey buzzards. At this time it is not known where Mr. Wurtz or his family are, and any information concerning their whereabouts should be passed along to the local authorities.

Unwilling to drop this lead, Jefferson Iowa News will continue to pursue the Wurtz invention and we hope that when we find Carl, he will be able to show off his nuclear-powered car, and give us a test drive. Entrepreneurs like Mr. Wurtz are the reason America can rest assured our own perseverance and technology will eventually overcome our dependence on foreign oil.


Rick Bland, contributor