Jefferson Iowa News
Welcome to the Jefferson Iowa News Photo Archives!
What follows is a sort of scrapbook of old photographs we have collected over the years from the Greene County area. We have received these photos from many sources, and we would like to thank everyone who has contributed.
These photos are currently not arranged in any type of sequential order, as they are continually posted as they are received. The reader is invited to simply browse through them and hopefully find some that you may remember. Many are nearly 100 years old, and many others may be as recent as a generation past. In some cases we do not have complete information on a photo, and you are invited to use the "contact us" link near the top of our main web page to further inform us. We may even have incorrect information accompanying a picture or two. Please let us know so that we can make corrections.
Take a "scroll" down memory lane! Remember, we are continually adding more photos as we receive them. Enjoy!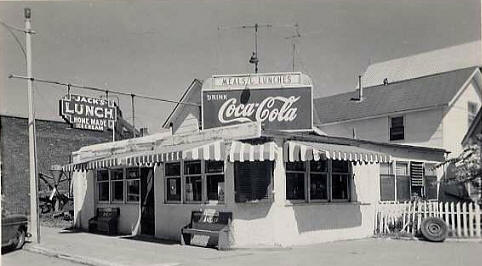 Jack's Lunch, Grand Junction, Iowa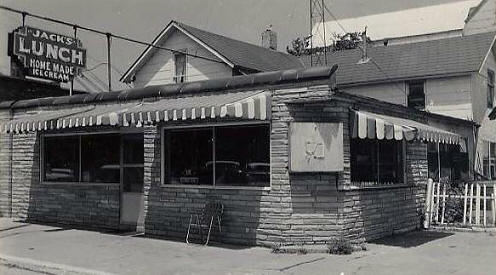 Jack's Lunch, Grand Junction, Iowa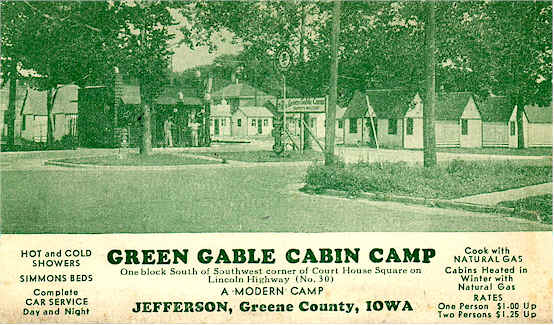 Green Gable Cabins Postcard - Jefferson, Iowa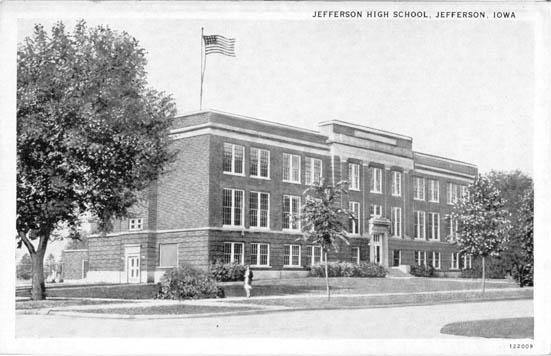 Jefferson High School (later Middle School) Postcard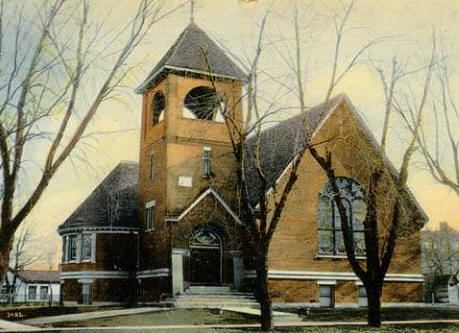 Baptist Church - 114 West Lincolnway in Jefferson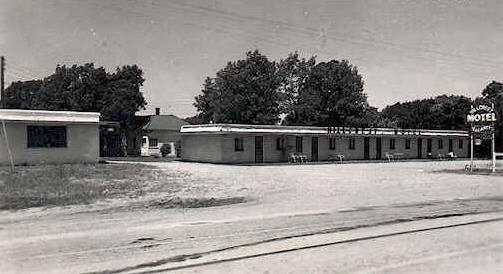 Hillcrest Motel, old Highway 30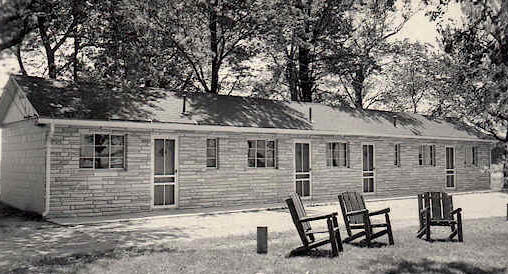 Star Motel, Grand Junction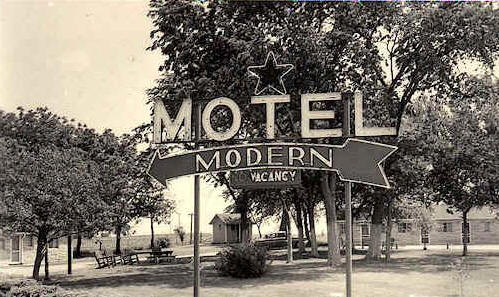 Star Motel, Grand Junction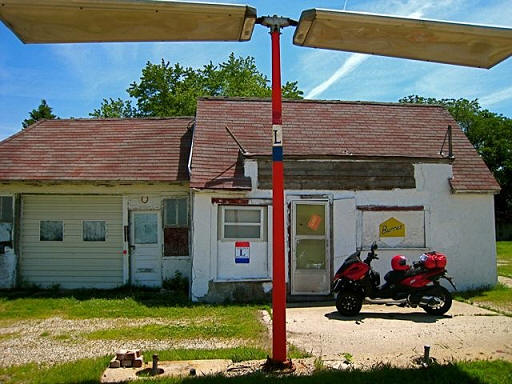 Old Lincoln Highway, Grand Junction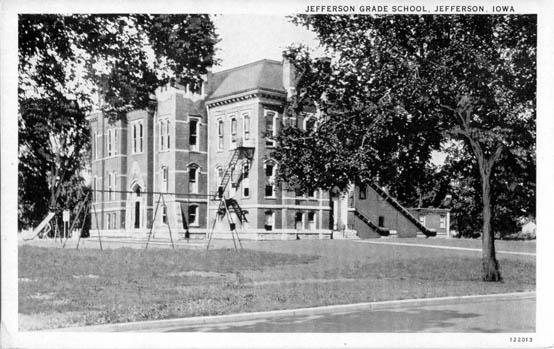 North Grade School Postcard - Jefferson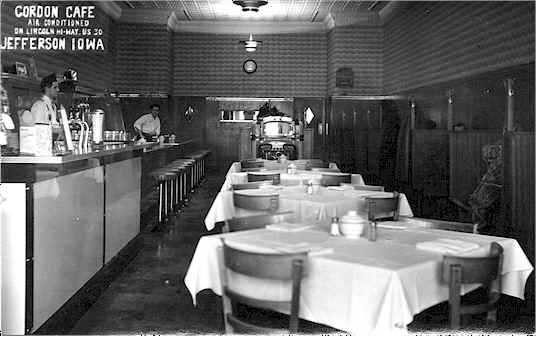 Gordon Cafe, south side of the square in Jefferson - interior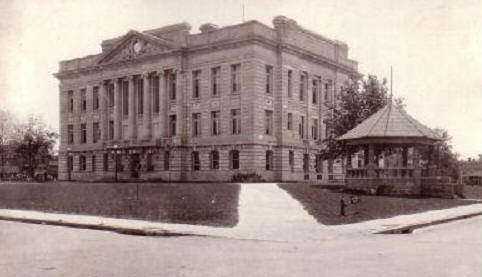 Greene County Courthouse w/stone bandstand - Jefferson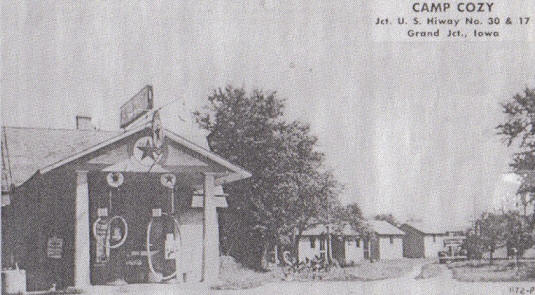 Camp Cozy, Grand Junction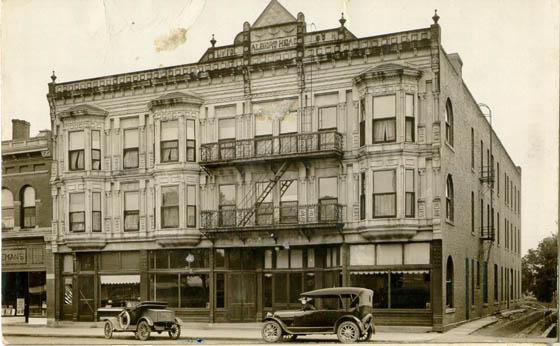 Head (later Lincoln) Hotel, downtown Jefferson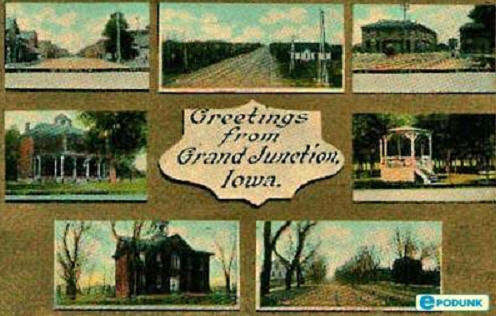 Old postcard from Grand Junction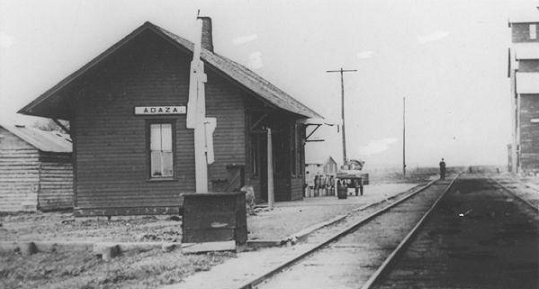 Train Depot, Adaza, Iowa - 1913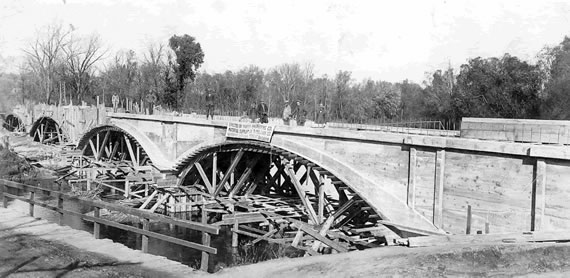 Eureka Bridge west of Jefferson during initial construction (photo courtesy of Hank Zaletel)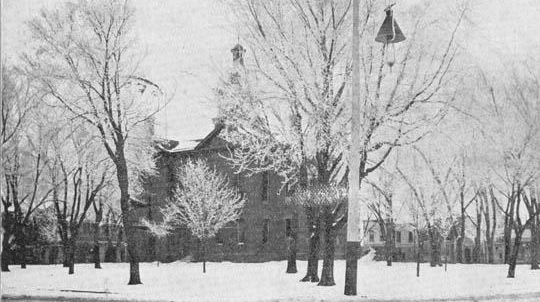 Old Greene County courthouse, circa 1900 - view from north
Main Street, Scranton, Iowa looking north - 1920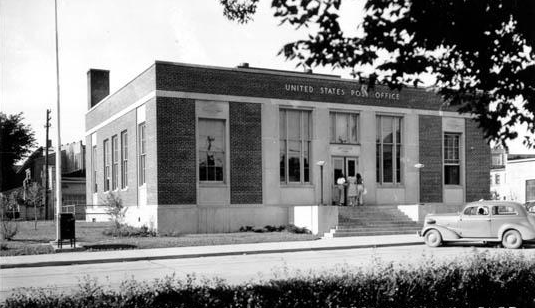 US Post Office, 106 West Harrison, Jefferson - circa 1950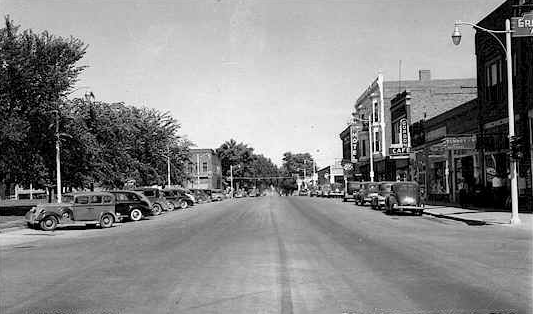 Lincolnway, looking east through downtown Jefferson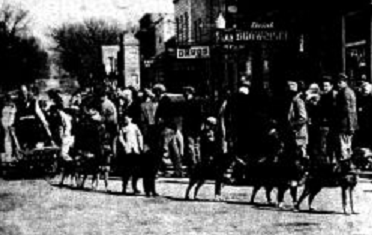 Main Street, Rippey, Iowa
Odell Block, Paton Iowa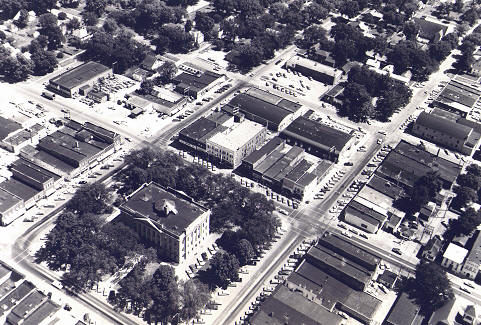 Aerial view, downtown Jefferson - 1965 (looking southeast)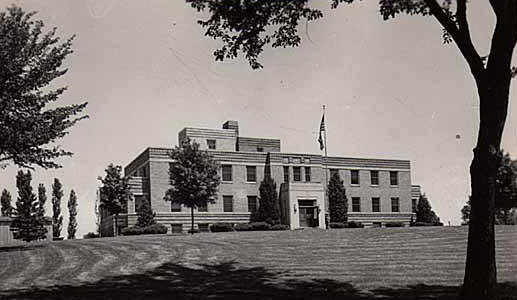 Greene County Medical Center - 1937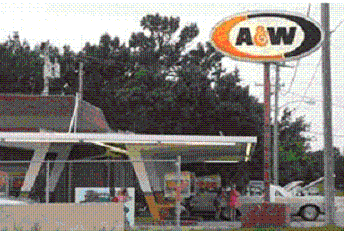 A & W Root Beer Stand on East Lincolnway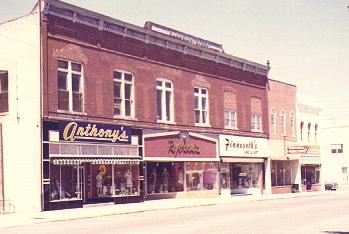 West side of square downtown, 1975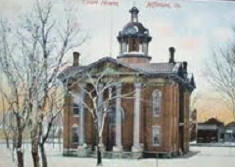 Greene County Courthouse, circa 1900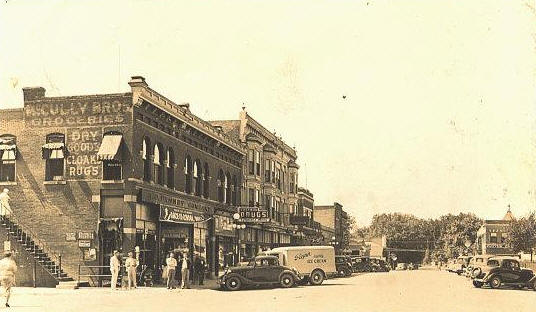 South side of the square, facing west, circa 1945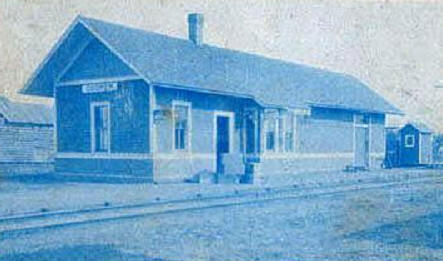 Cooper train station, Greene County, Iowa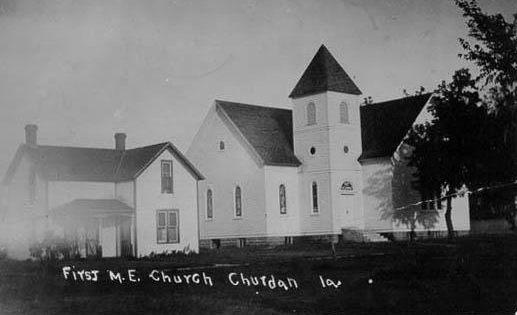 Methodist Church, Churdan, Iowa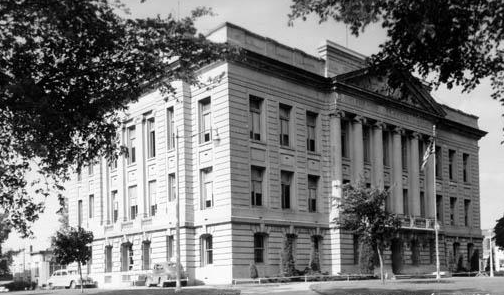 Greene County Courthouse, circa 1950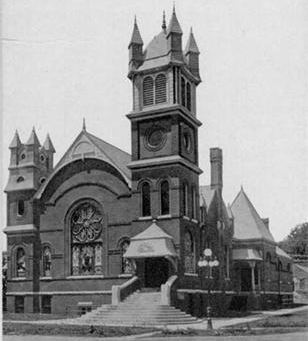 First Methodist Church, Jefferson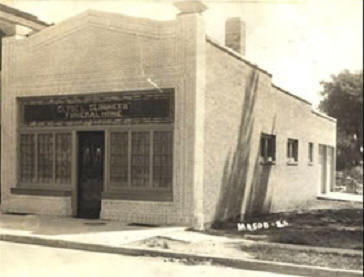 Slininger Funeral Home, Lincolnway and Vine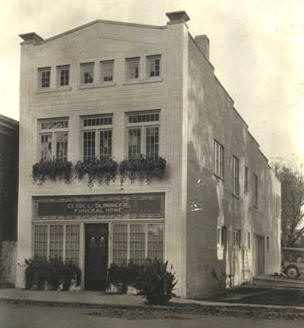 Slininger Funeral Home, upper story added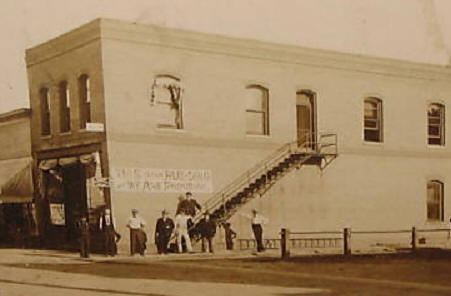 Downtown Grand Junction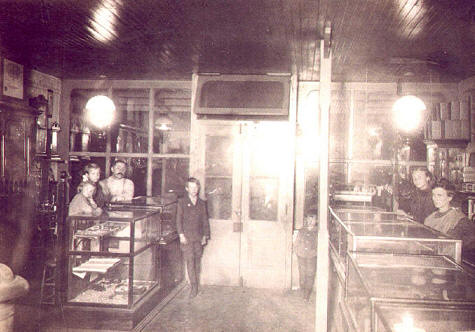 Van Horn's Hardware, Rippey, Iowa - interior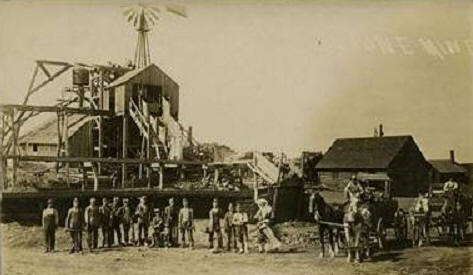 Keystone Mines, Rippey

Jefferson - north side of the square storefront marquis, circa 1960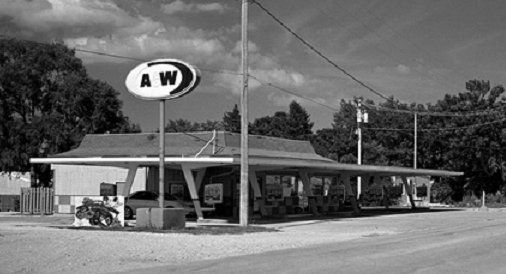 A & W root beer stand, East Lincolnway, Jefferson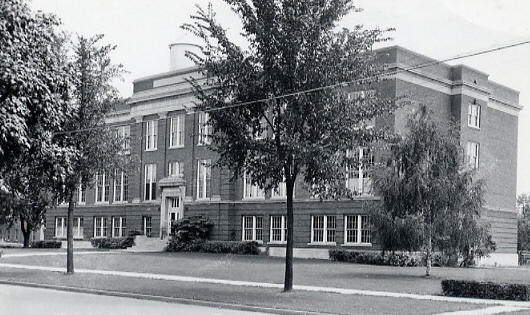 Jefferson High School, later Middle School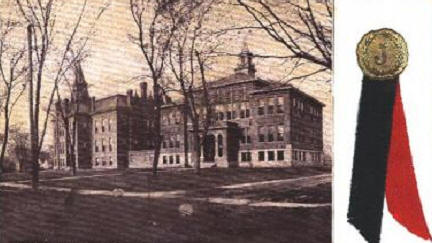 Jefferson High School w/Jefferson High ribbon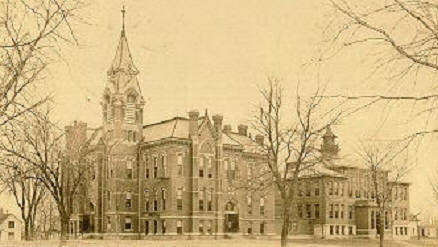 Old Jefferson Public/High School, another angle

Jefferson downtown, panoramic view, circa 1910. Chestnut Street heads straight ahead north.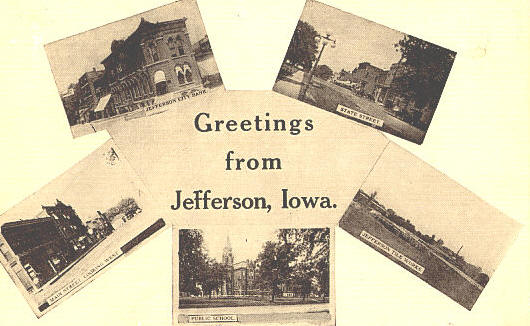 Assorted Jefferson Iowa postcards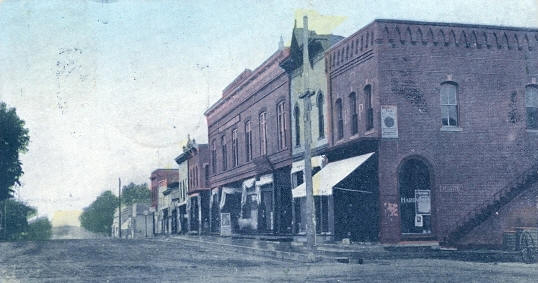 West side of square facing south, downtown Jefferson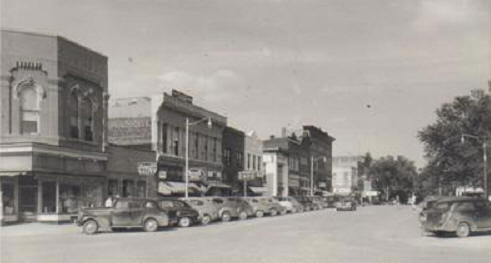 North side of square facing east, downtown Jefferson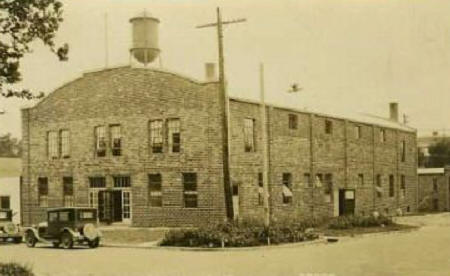 Jefferson armory, Wilson and Harrison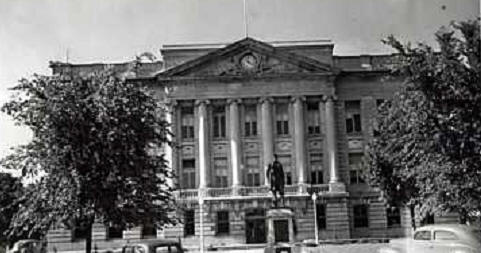 Greene County courthouse, circa 1955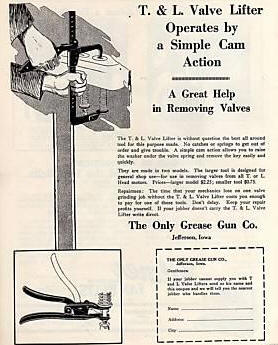 Only Grease Gun Co. ad - Jefferson, IA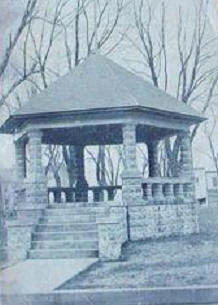 Bandstand on courthouse square, Jefferson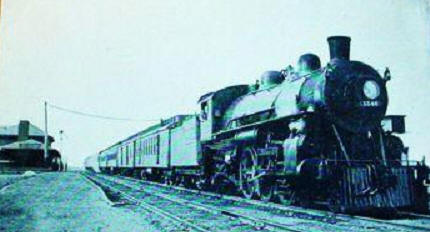 Train at station, Jefferson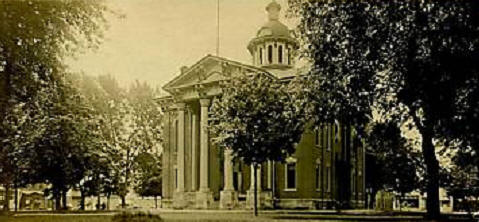 Greene County Courthouse, circa 1910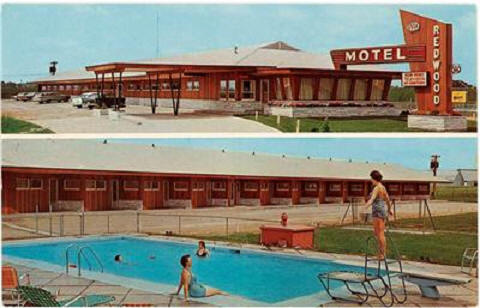 Redwood Motel, Jefferson postcard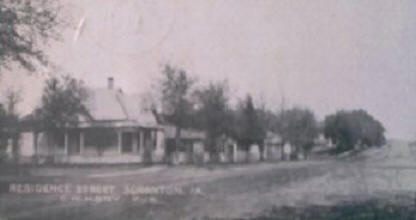 Street in Scranton, IA - old photo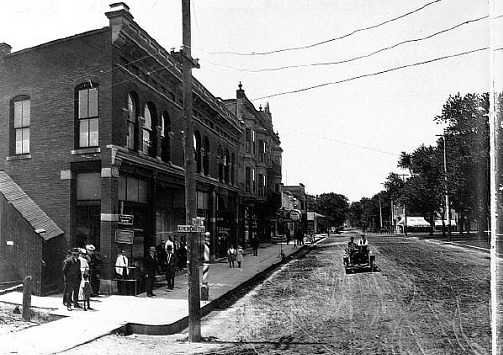 Corner of Chestnut and Lincolnway in Jefferson, looking west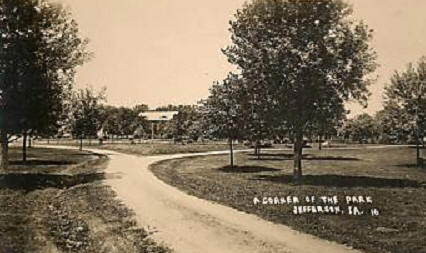 Kelso Park, Jefferson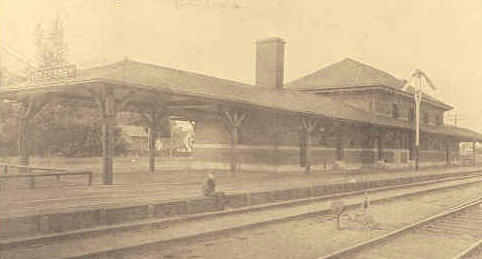 Train station, Jefferson, Iowa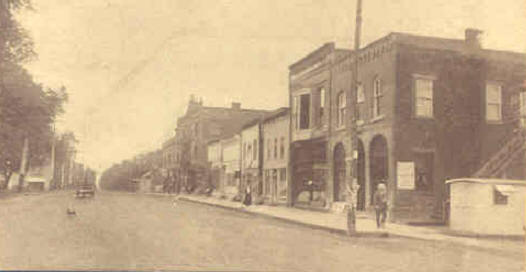 South side of square in Jefferson, facing east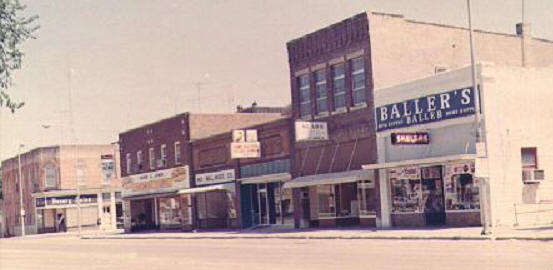 East side of Jefferson square, north end - 1975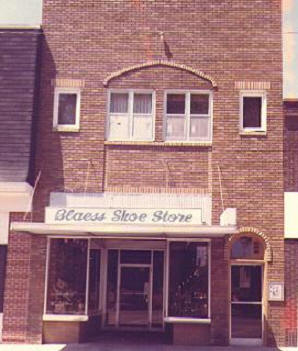 Blaess Shoe Store, 104 North Wilson - Jefferson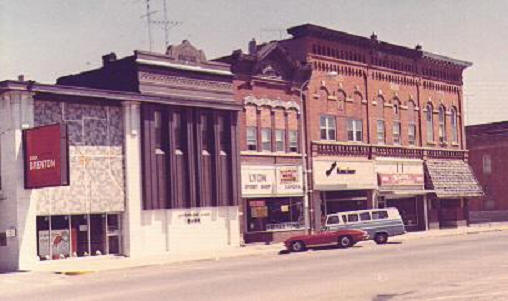 North side of the square in Jefferson, 1975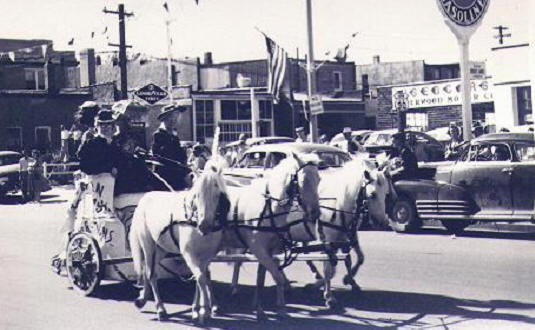 Photo taken at Jefferson's 1954 Centennial Celebration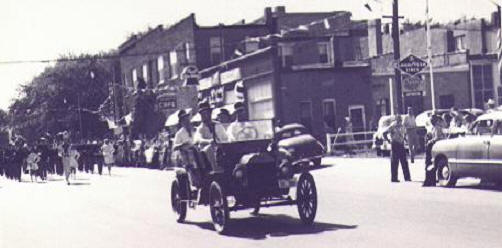 1954 Jefferson Centennial photo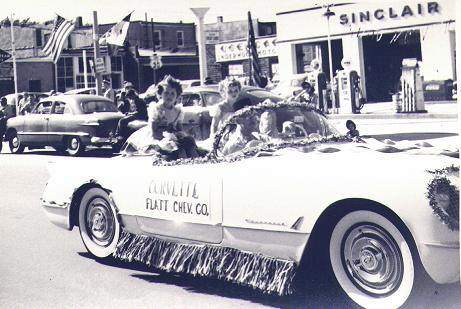 1954 Jefferson Centennial photo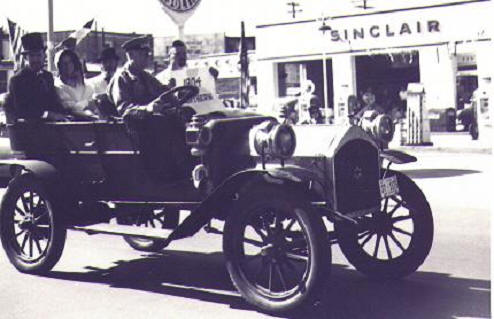 1954 Jefferson Centennial photo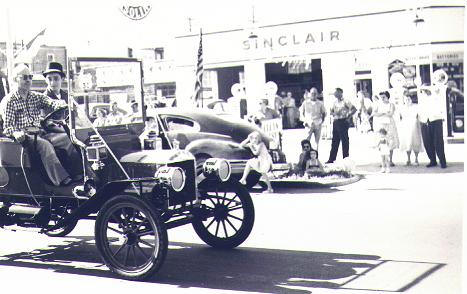 1954 Jefferson Centennial photo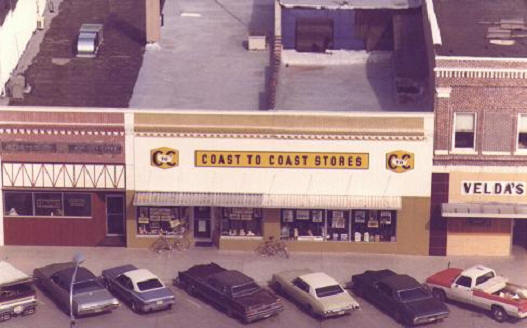 Ace Pizza, Coast to Coast, Velda's Tap - 1975 (from Mahanay Tower)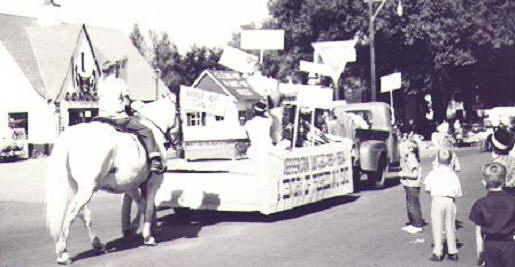 1954 Jefferson Centennial photo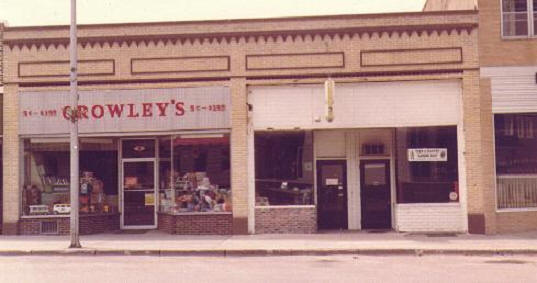 Crowley's, Lunch Box Cafe - 1975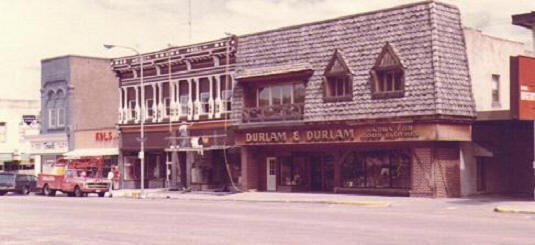 North side of square, west end - 1975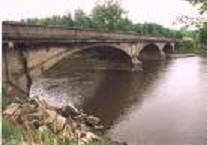 Eureka Bridge, old Lincoln Highway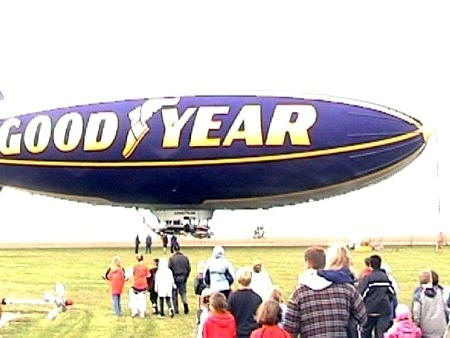 Goodyear blimp at Jefferson airport, 2006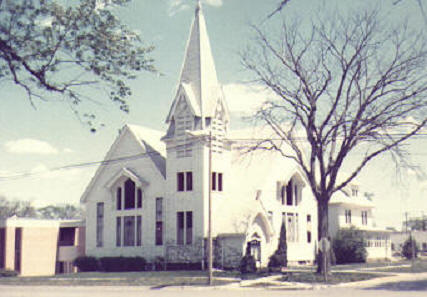 Presbyterian Church, 208 West State Street, Jefferson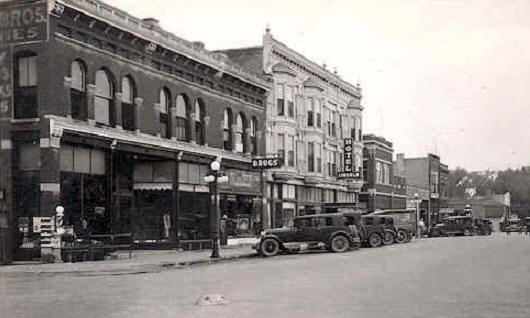 South side of the square in Jefferson, east to west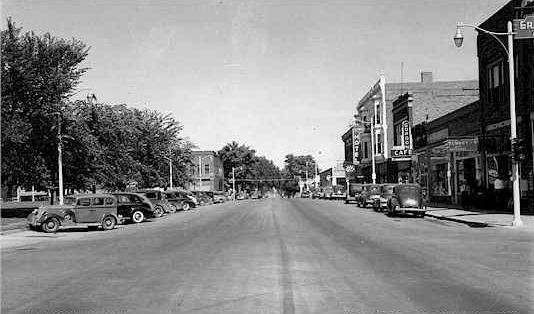 Lincolnway in downtown Jefferson, looking east, circa 1950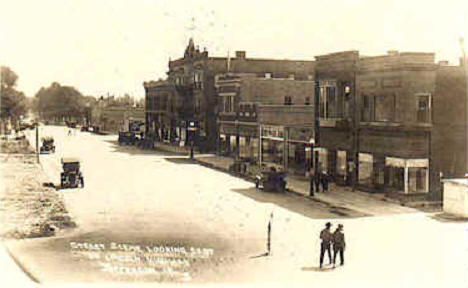 South side of Jefferson square, about 1915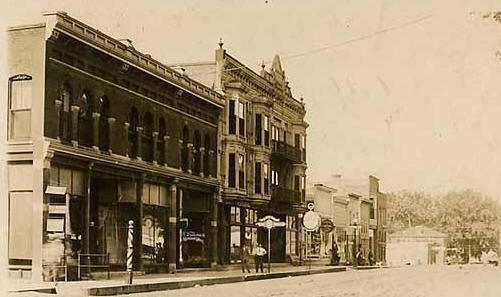 Head House, later Lincoln Hotel, circa 1890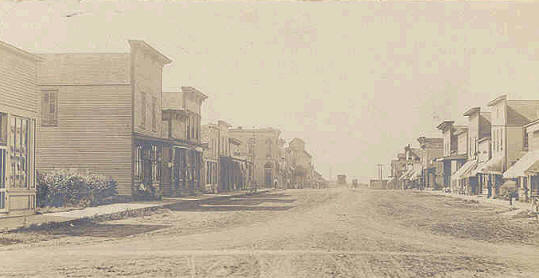 Main Street Scranton, looking south, circa 1900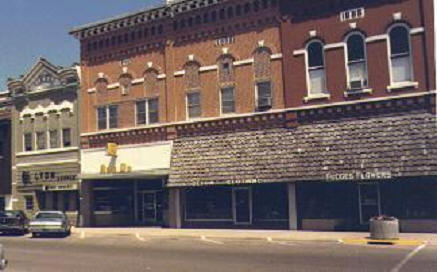 North side of square in Jefferson, 1970's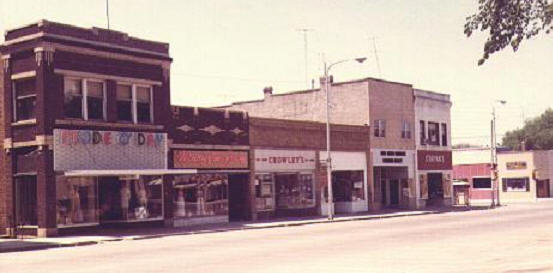 South side of square in Jefferson, west end - 1975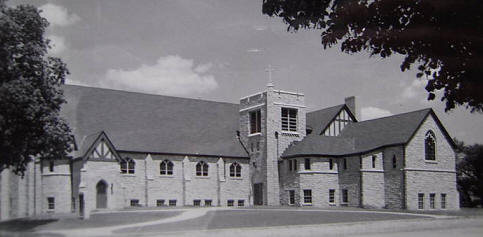 United Methodist Church, 307 South Wilson, Jefferson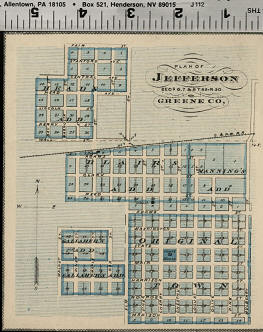 Jefferson, Iowa street map, 1875
St. Joseph's Catholic Church, 501 North Chestnut, Jefferson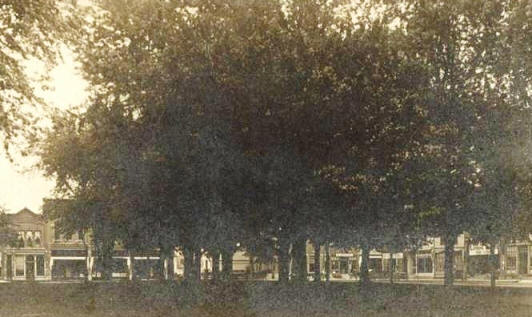 Courthouse square, Jefferson - circa 1920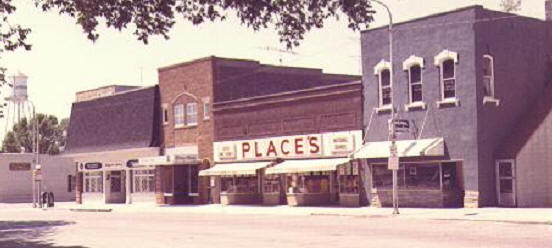 West side of the square in Jefferson, south end - 1975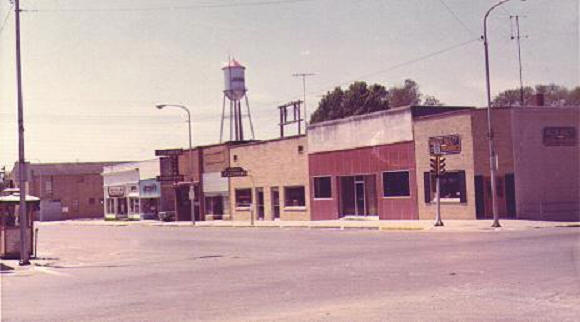 100 block of South Wilson in Jefferson - 1975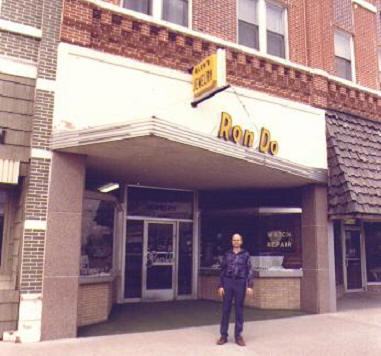 Glen's Jewelry/Ron Do's Beauty Salon, Jefferson - 1975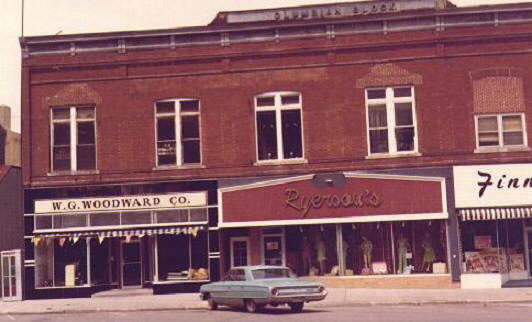 West side of square in Jefferson - 1975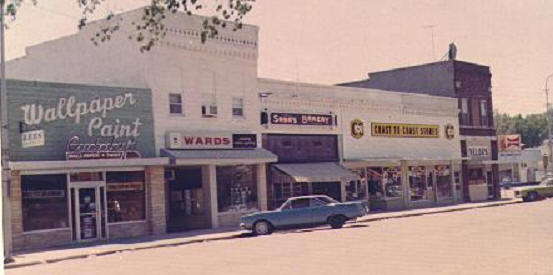 East side of square, Jefferson - 1975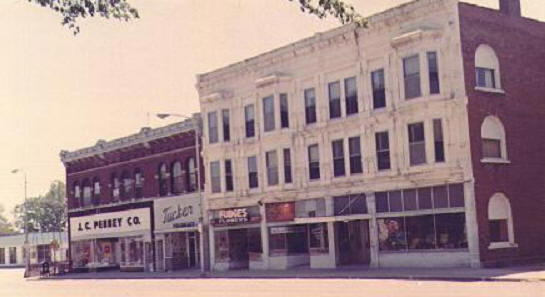 JC Penney, Tucker Pharmacy, Fudge's Flowers, Ferris Real Estate, Lincoln Hotel Bldg, - 1975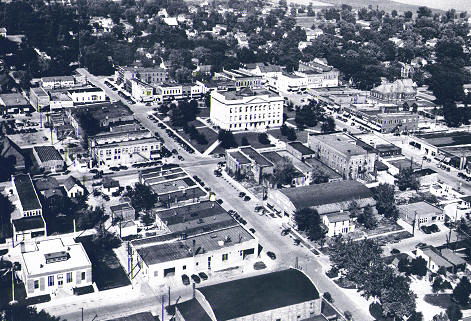 Aerial view of Jefferson, 1937 - looking NNE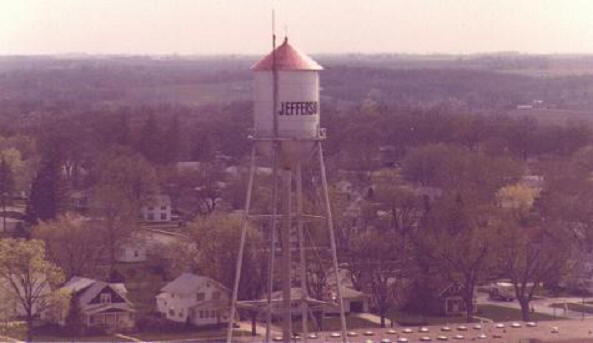 Old Jefferson water tower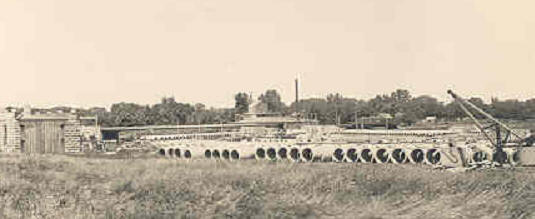 Jefferson Tile Factory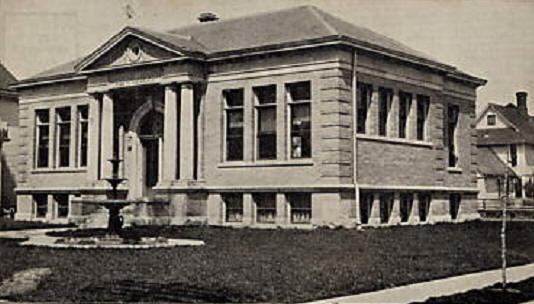 Jefferson Public Library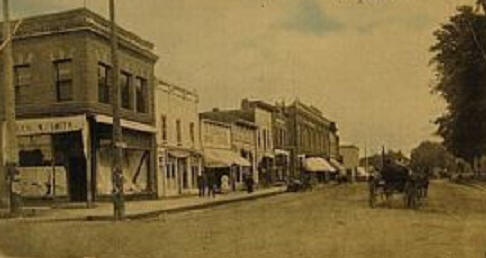 West side of the square, Jefferson - circa 1900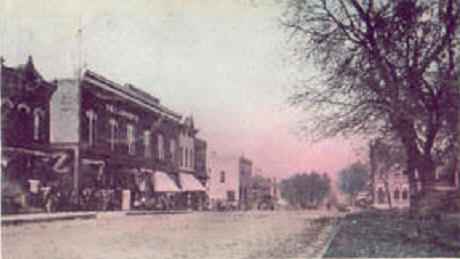 West side of the square, Jefferson - circa 1910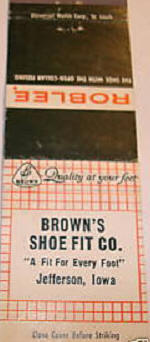 Matchbook covers - Jefferson, Iowa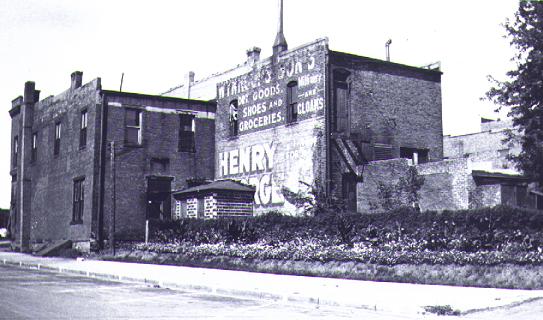 100 Block, South Wilson, Jefferson (behind Wynkoop store) - circa 1940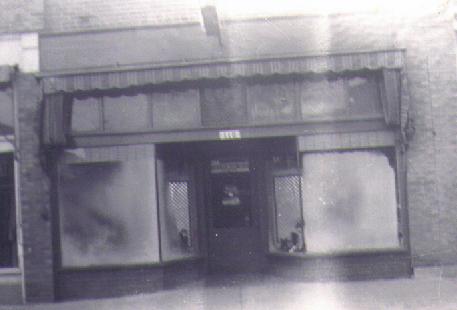 B and R Shoe Store, 110 South Wilson in Jefferson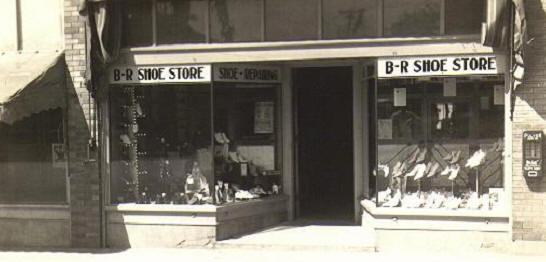 B and R Shoe Store, Jefferson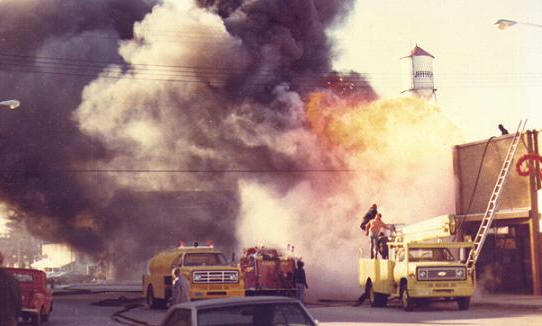 McCoy Press Fire - 1976, 114 South Wilson just off Lincolnway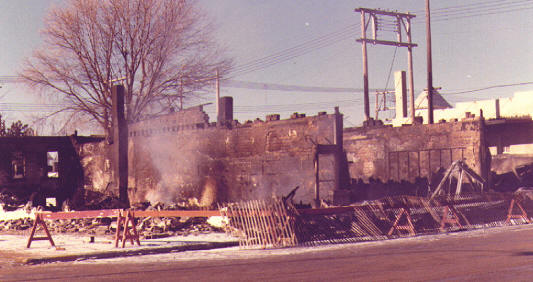 Aftermath of McCoy Press Fire - 1976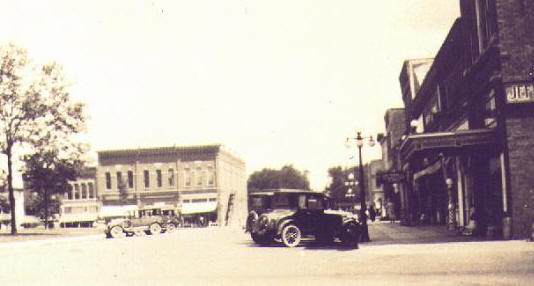 Looking north on Chestnut Street from Lincolnway, circa 1930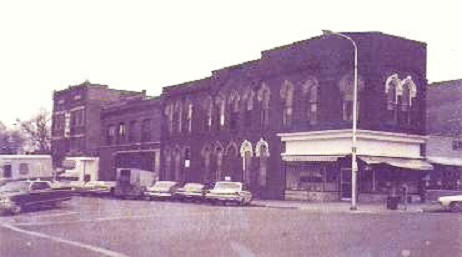 Cigar Store, Jefferson Hotel, 1960's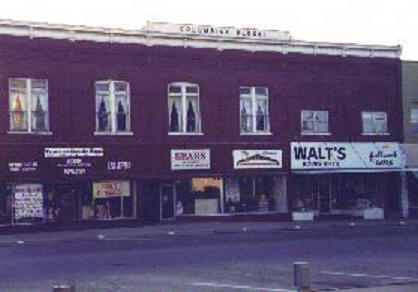 Columbian Block Building, North Wilson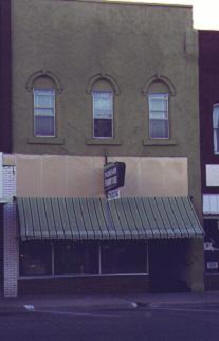 Figenshaw Furniture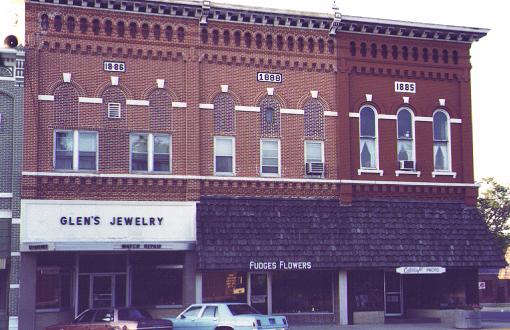 Glen's Jewelry, Fudge's Flowers - Jefferson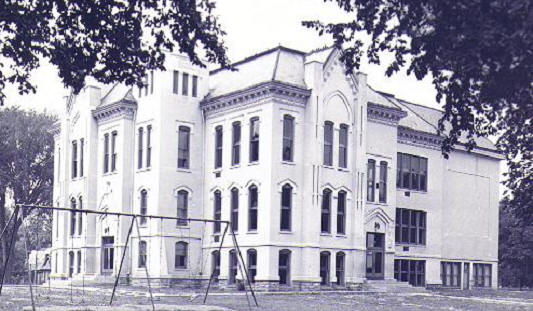 North Grade School, 400 North Wilson in Jefferson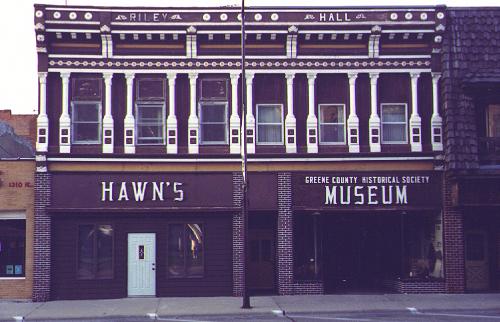 Hawn's Accounting, Historical Museum on State Street
Home State Bank in Jefferson - postcard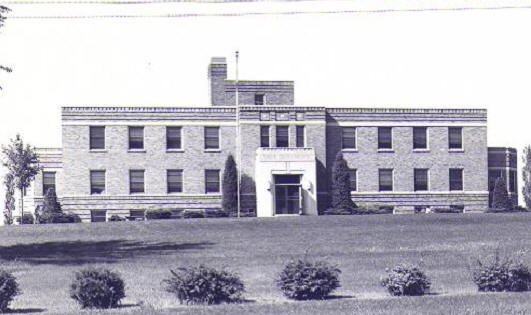 Greene County Medical Center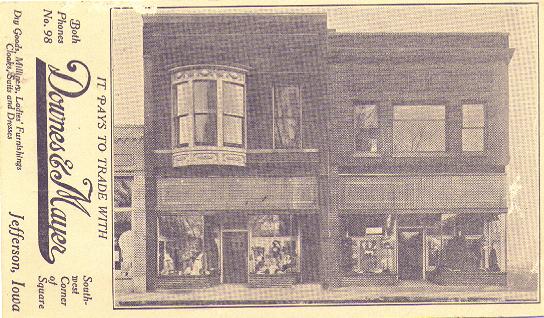 Downes & Mayer Dry Goods postcard
KDLS Radio Station - 102 East State Street, Jefferson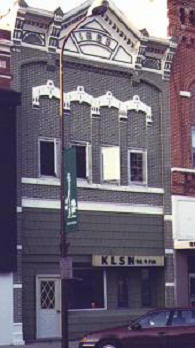 KLSN Radio, Jefferson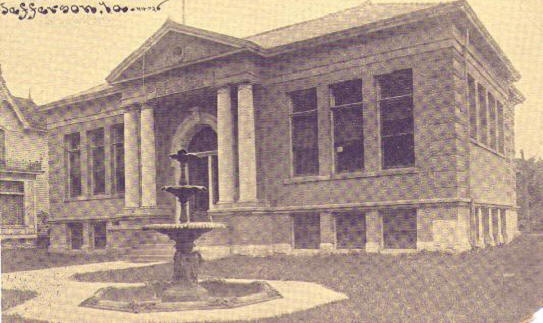 Jefferson Public Library w/sidewalk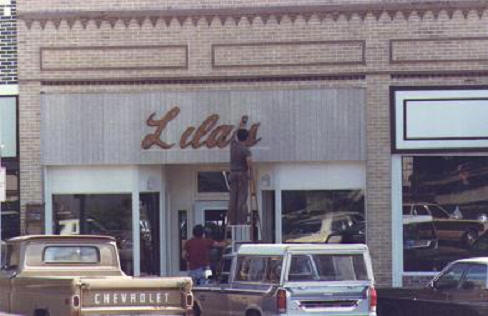 Lila's Dress Shop, Lincolnway in Jefferson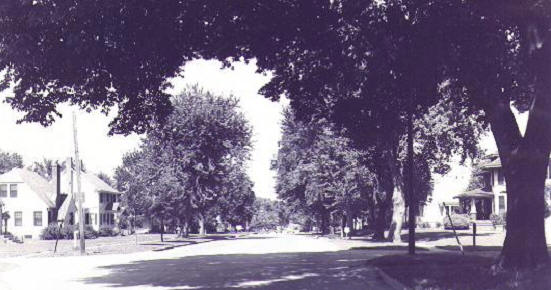 Lincolnway in Jefferson, facing west - 1969 photo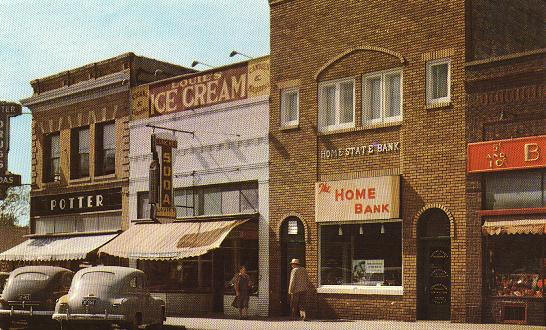 Potter Drug, Louie's Ice Cream, Home State Bank - 1950's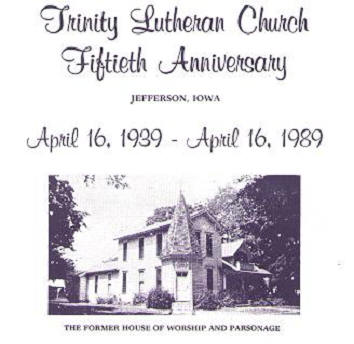 Lutheran Church Bulletin - 1989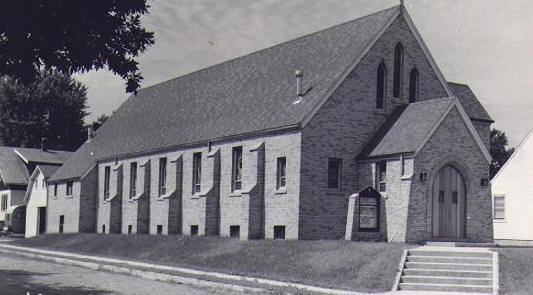 Trinity Lutheran Church, 801 West Lincolnway, 1952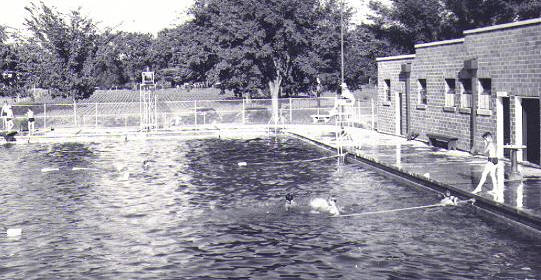 Jefferson Municipal Pool - old photo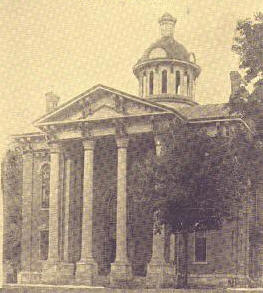 Greene County Courthouse, circa 1910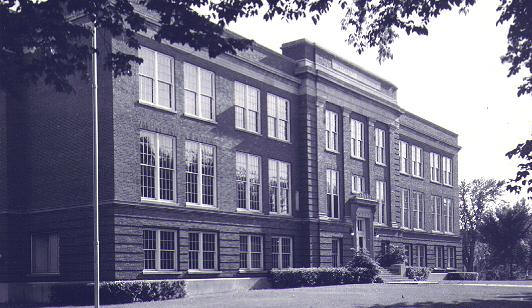 Jefferson High School, later Middle School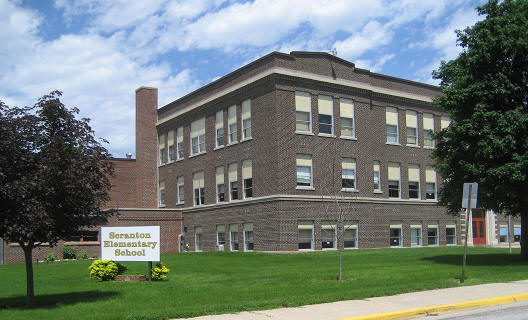 Scranton Elementary School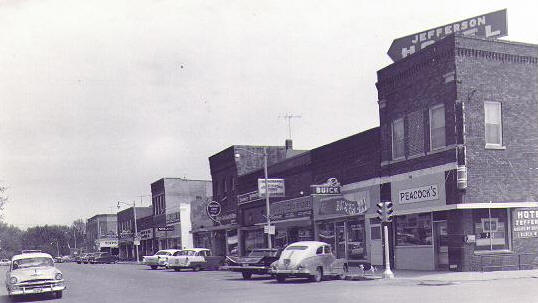 East side of square with stoplights, 1950's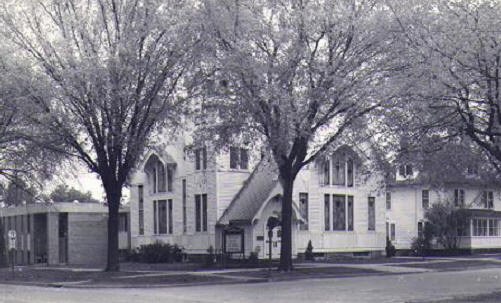 Presbyterian Church, 208 West State Street, Jefferson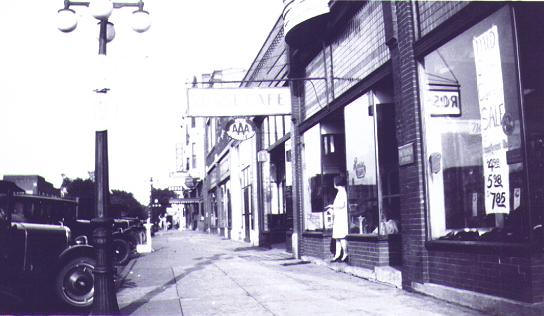 Rosse Cafe, south side of square in Jefferson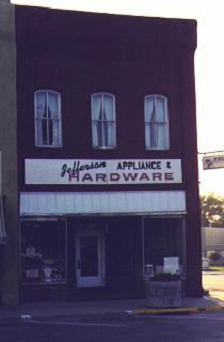 Jefferson Hardware, 124 North Wilson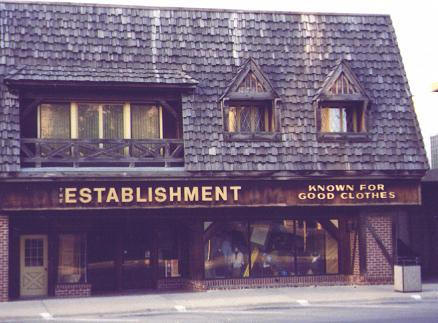 The Establishment, 108 East State Street, Jefferson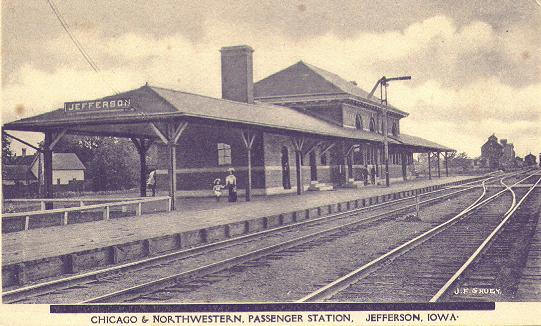 Jefferson train station, old postcard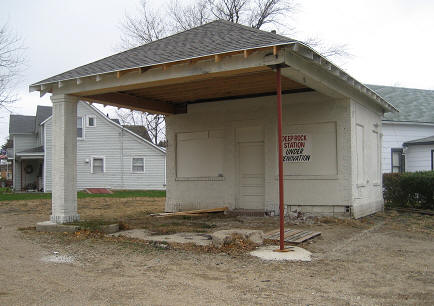 Old Deep Rock Gas Station, Jefferson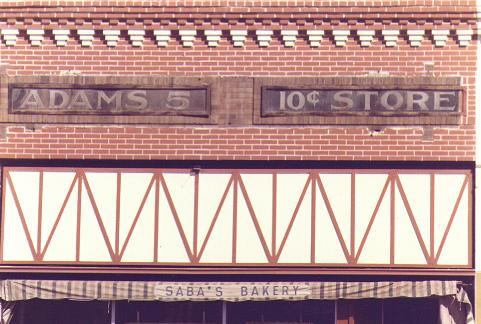 Adam's 5 and 10 Cent Store, marquis above Saba's - 109 N. Chestnut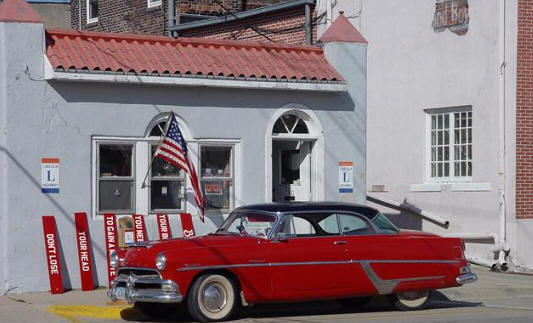 Lincoln Highway Museum w/ Burma Shave signs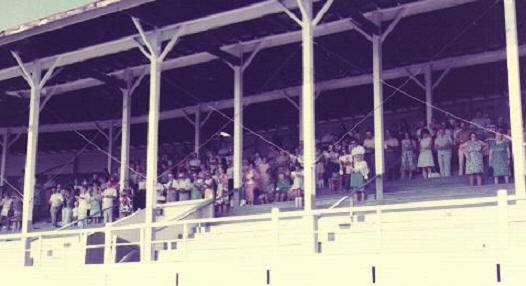 Fairground grandstands, Jefferson - old photo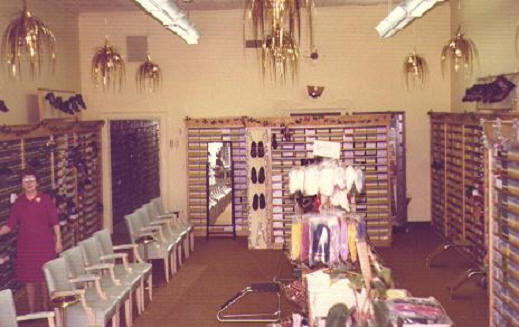 Blaess Shoe Store, Jefferson - interior view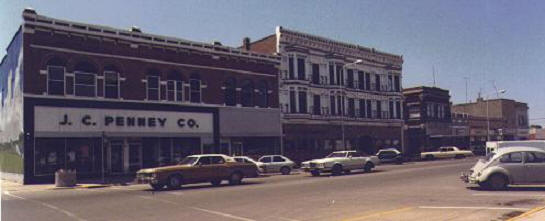 South side of square in Jefferson, circa 1975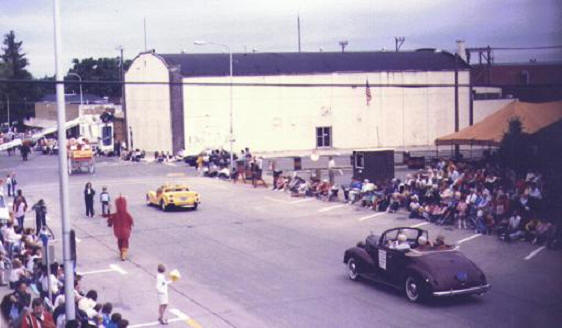 Bell Tower parade in Jefferson, 1978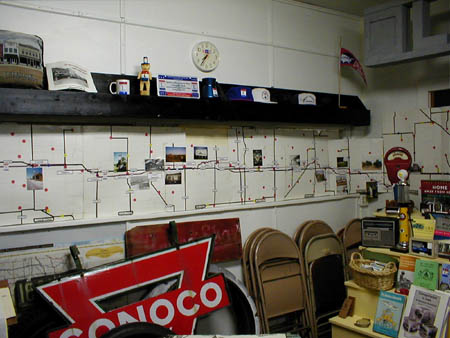 Lincoln Highway Museum, Jefferson - interior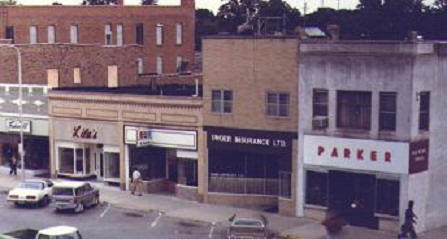 South side of square in Jefferson - 1970's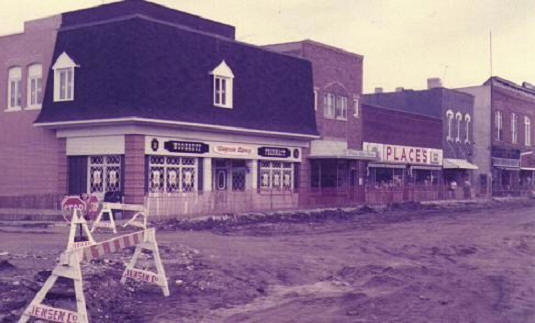 Street repair, downtown Jefferson - 1975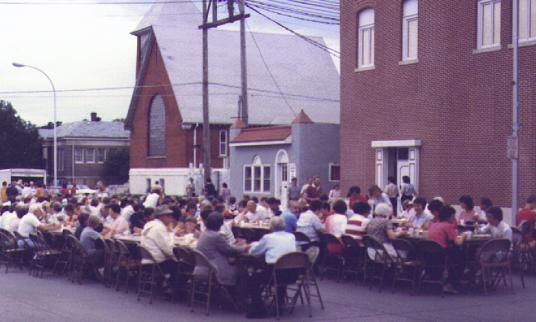 Jefferson Bell Tower Festival - 1978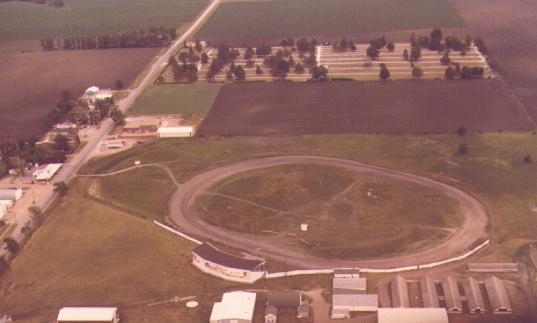 Aerial view, Greene County fairgrounds - facing east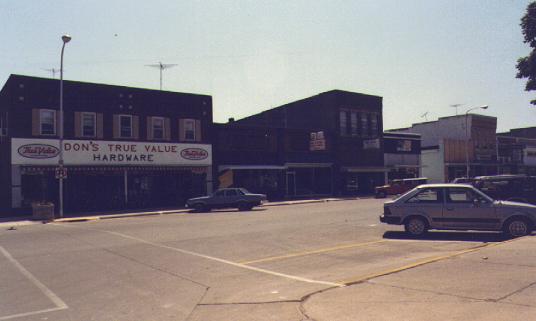 Don's True Value Hardware, Jefferson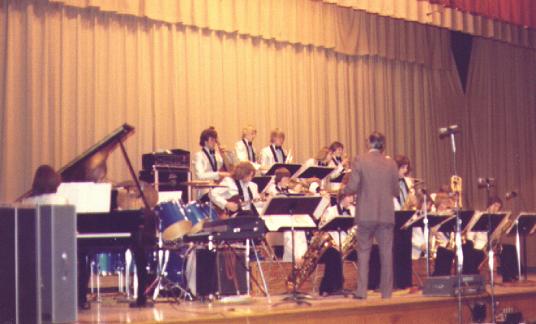 Jefferson Jazz Band at annual Jazz Festival, 1977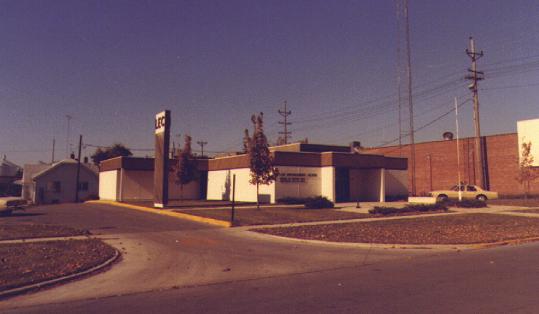 Law Enforcement Center, Jefferson - 1978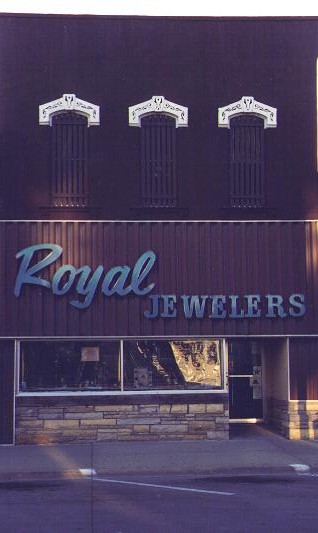 Royal Jewelers, 112 N. Wilson in Jefferson - old facade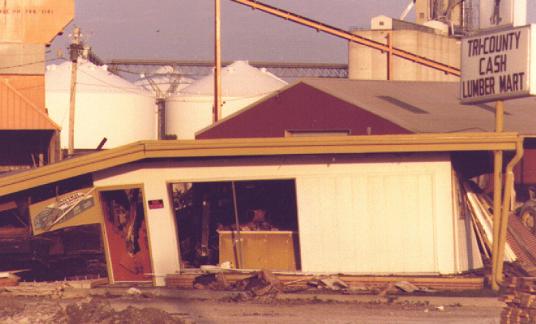 Tri-County Lumber fire - 1977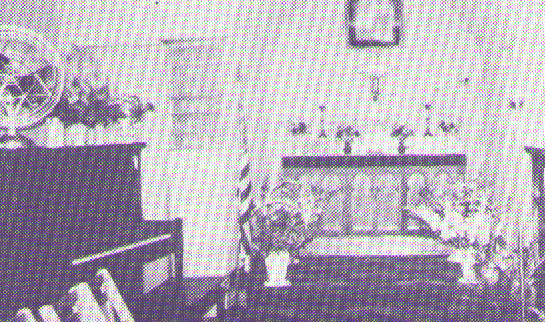 Trinity Lutheran Church, 306 South Maple - interior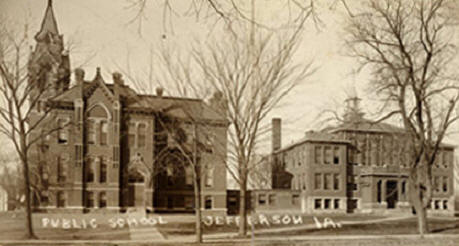 Jefferson Public School, grades K - 12

American Athletic Equipment Co., 200 American Drive, Jefferson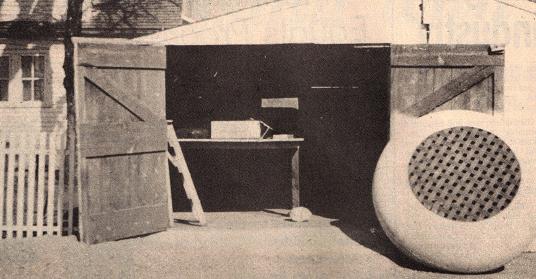 The Aqua Tramp, invented in Jefferson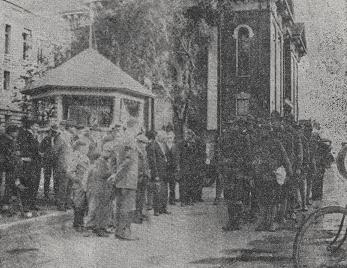 Bandstand in front of both Greene County Courthouses, 1917
Bordenaro's Market, 108 West Washington in Jefferson - circa 1965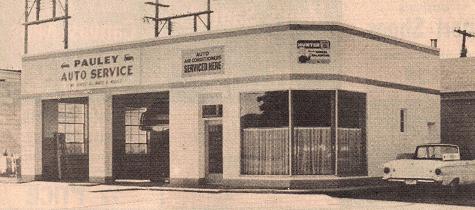 Pauley Auto Service, 220 East Lincolnway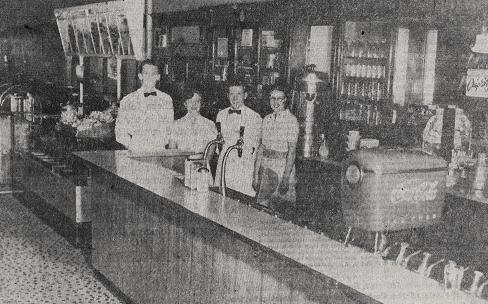 Louie's Ice Cream Parlor, Jefferson - interior view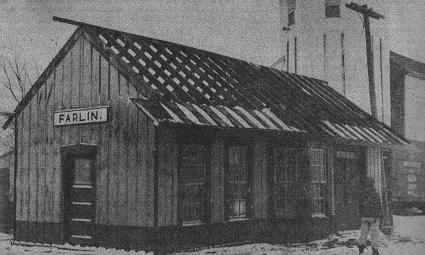 Farlin train depot, 1962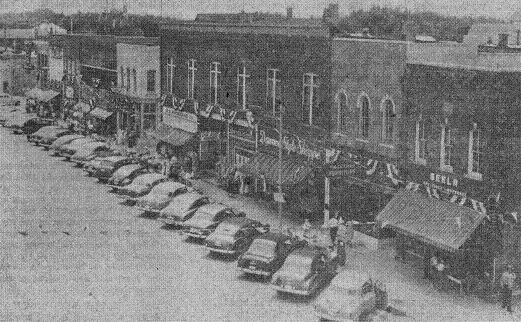 Cherry Street (later Wilson), downtown Jefferson - 1950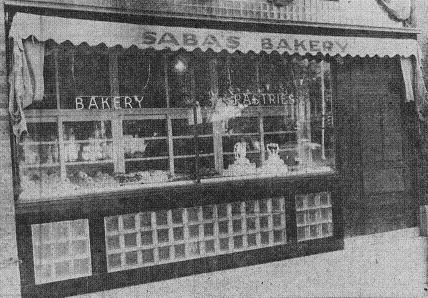 Saba's Bakery, North Chestnut in Jefferson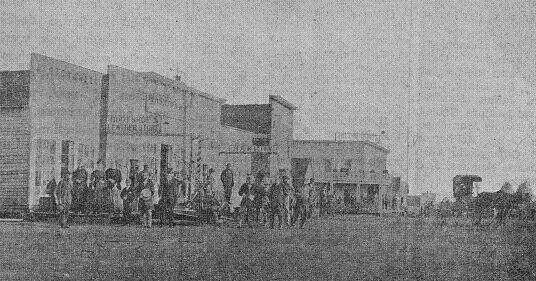 Cherry (Wilson) Street looking north through downtown, 1869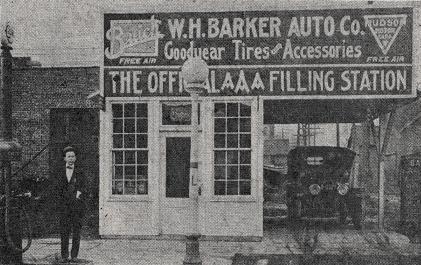 Jefferson's first gas station, location unknown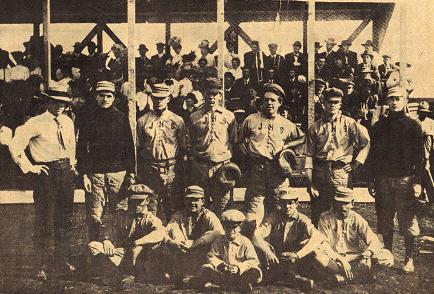 Jefferson baseball team, 1910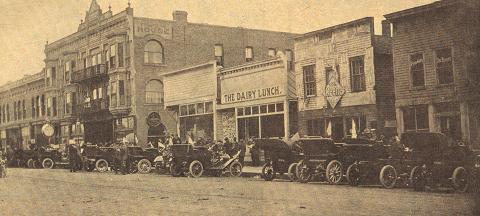 South side of square in Jefferson, circa 1925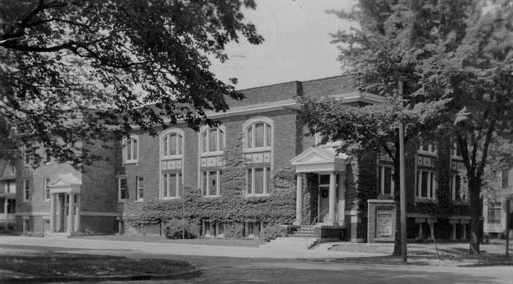 Central Christian Church, Jefferson - circa 1960

Downtown Jefferson, panoramic view, 1907 - looking east down State Street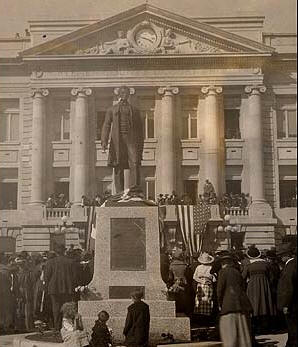 Lincoln Statue dedication on square, 1918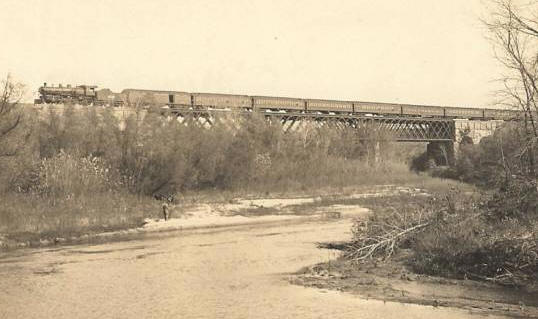 Train bridge over Raccoon River west of Jefferson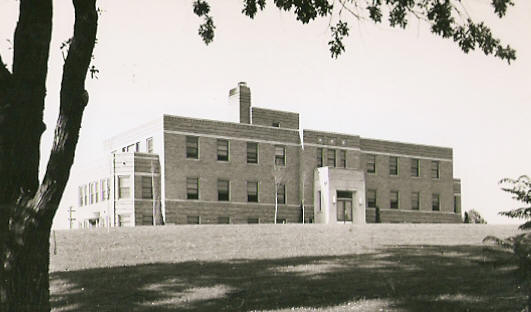 Greene County Medical Center, 1937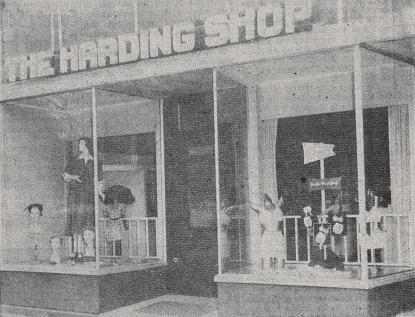 The Harding Shop - 109 East Lincolnway, Jefferson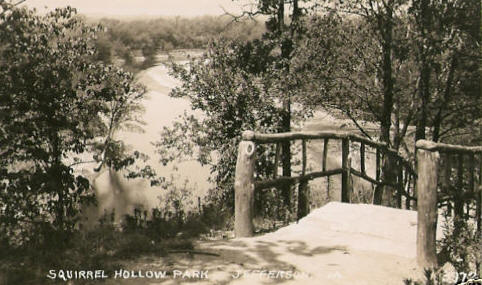 Squirrel Hollow Park, circa 1945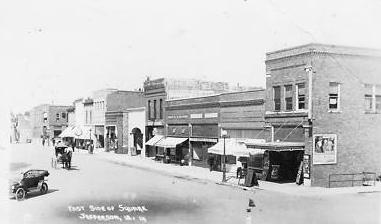 East side of Jefferson town square - circa 1930
Conoco service station, 300 East Lincolnway in Jefferson
Meat counter in Bordenaro's Market - Jefferson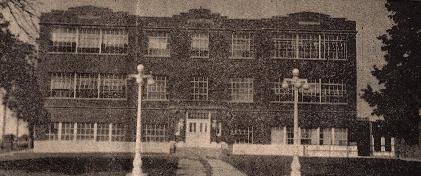 Public school - Cooper, Iowa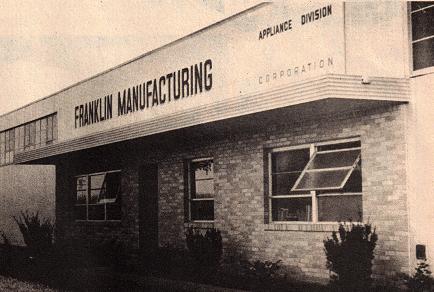 Franklin Manufacturing, East Central Street in Jefferson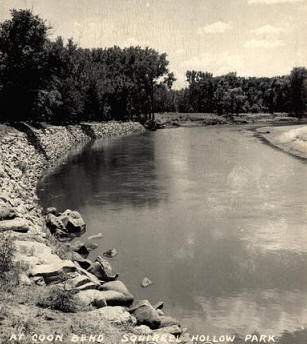 Squirrel Hollow Park, circa 1945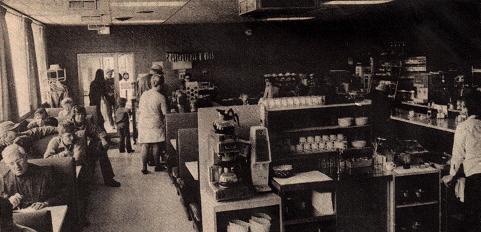 Truck Haven Cafe, Jefferson - interior view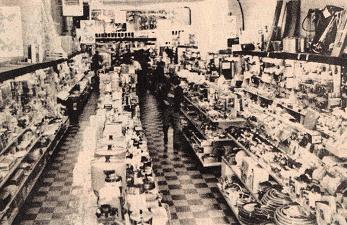 Coast to Coast Hardware, Jefferson - interior view
Mahanay Tower Plans with Pools, circa 1960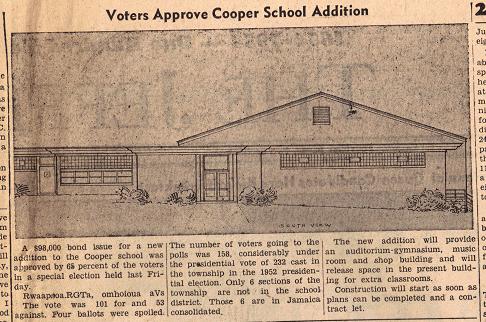 Cooper School Auditorium Plans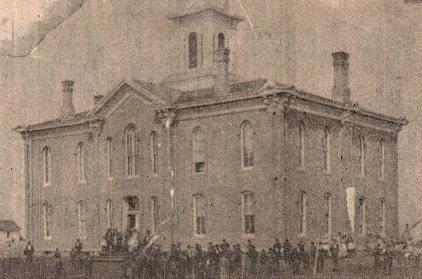 Original Public School at 400 N. Wilson, destroyed by fire in 1880's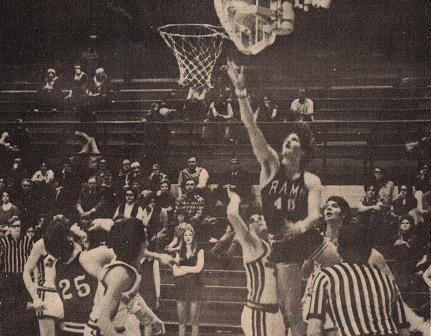 Dale Smith, Jefferson's most famous basketball player - 1973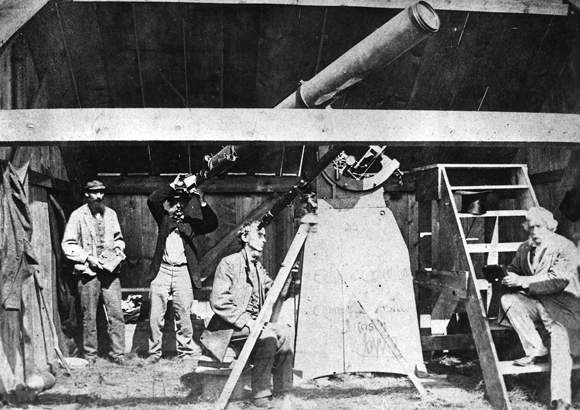 Sir Robert Faulkner in Jefferson viewing an eclipse - 1869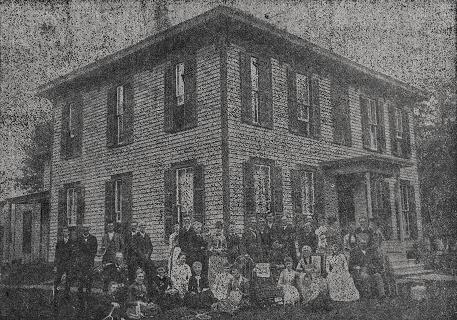 Jefferson Academy of Higher Learning, circa 1875

Bon Ton Shoppe, Jefferson - interior view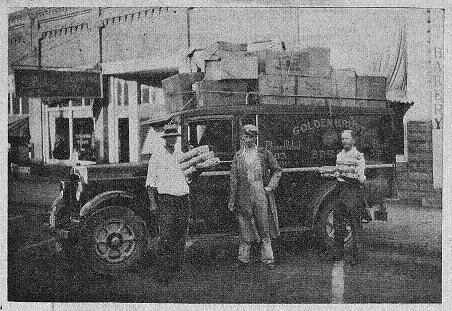 Saba Saba making deliveries in the 1930's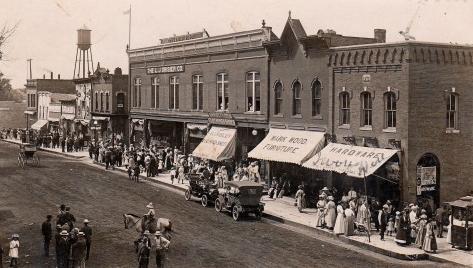 Cherry (Wilson) Street looking south, circa 1920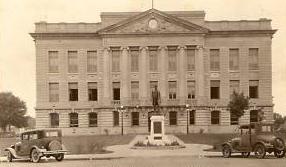 Greene County Courthouse, south side - circa 1930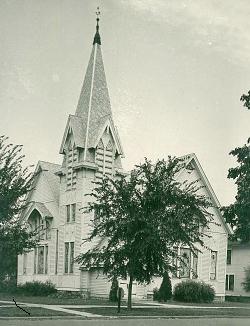 Presbyterian Church, Jefferson - circa 1960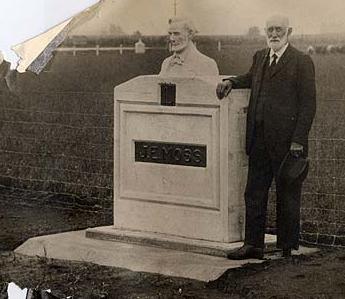 Moss Marker, old Lincoln Highway - near Jefferson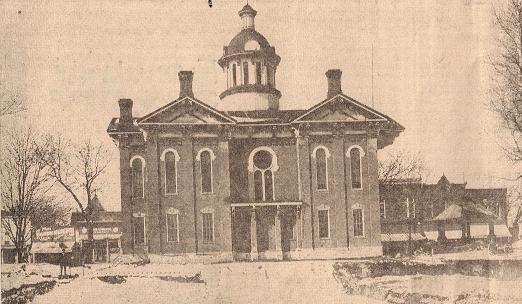 Greene County Courthouse 1916 - east side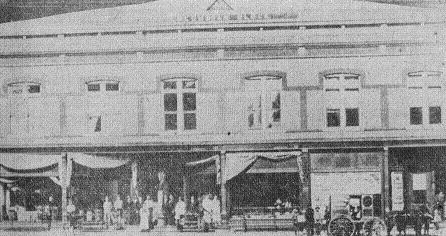 Columbian Block on Cherry (Wilson) Street, circa 1890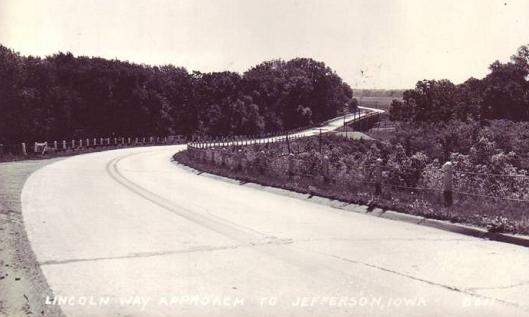 Danger Hill, west of Jefferson on old Highway 30 - circa 1960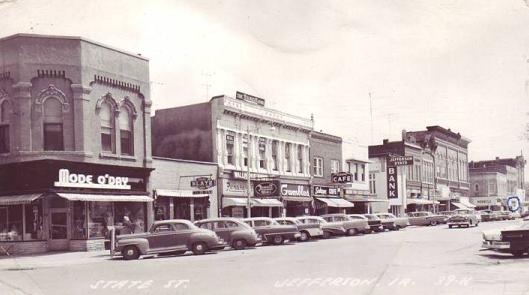 North side of square in Jefferson, circa 1960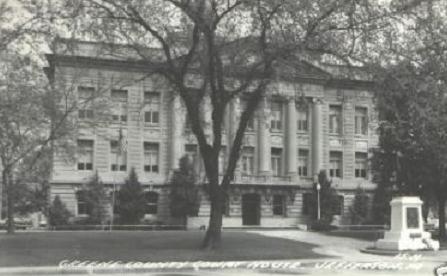 Greene County Courthouse, circa 1960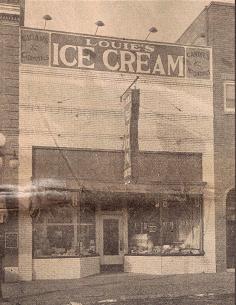 Louie's Ice Cream Parlor, North Wilson in Jefferson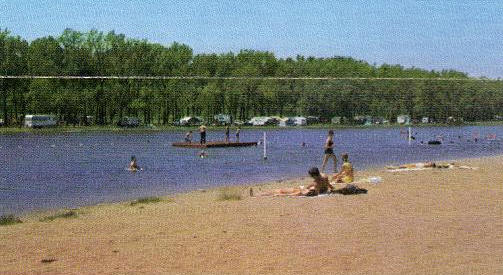 Spring Lake Park, circa 1970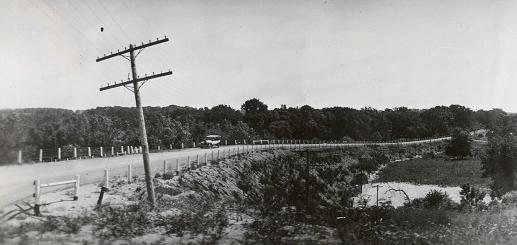 Old Highway 30, just west of Jefferson, circa 1920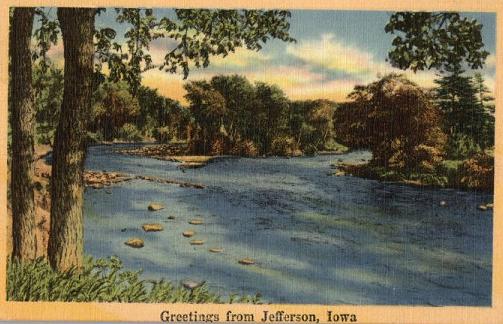 Vintage Jefferson postcard featuring Raccoon River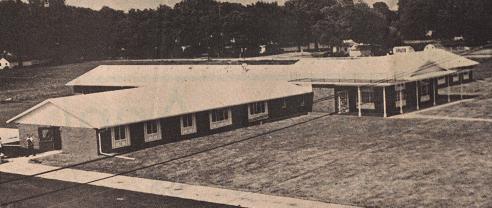 Jefferson Manor, immediately after construction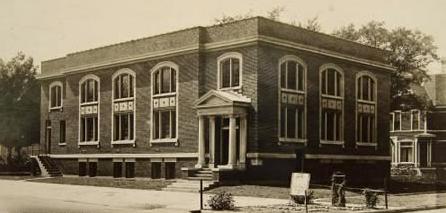 Central Christian Church, 108 N. Elm in Jefferson - date unknown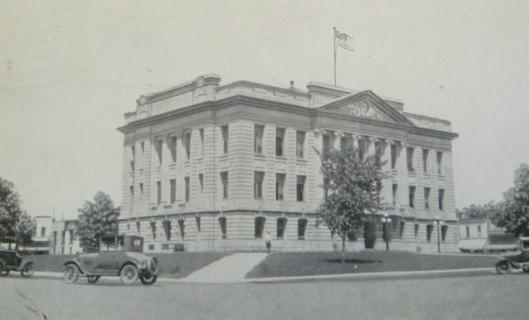 Greene County Courthouse, circa 1920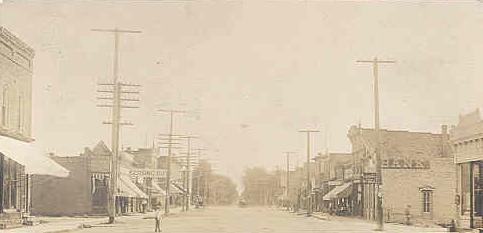 Main Street in Grand Junction, circa 1925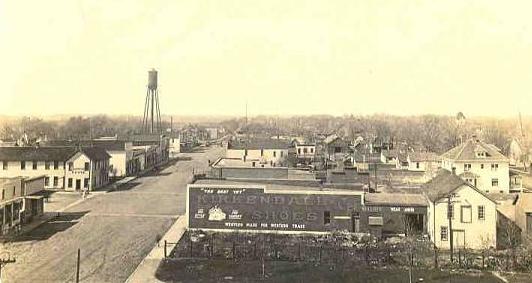 Scranton, Iowa in 1914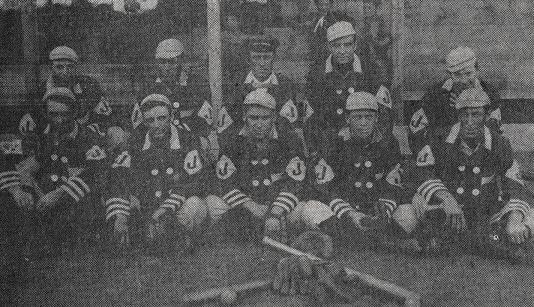 Jefferson professional baseball team, 1906 team photo