Death Toll Continues to Rise in Local Plane Tragedy



JeffersonIowaNews.com unfortunately reports that the death toll continues to rise as local authorities investigate the crash of a Cessna 350 in the Jefferson Cemetery last Thursday. Apparently, the aircraft missed the airport runway for unknown reasons and crash-landed in the cemetery, which is located nearly a full mile west of the airport.

Federal aviation experts contributed the accident to the fact that the airport was unmanned and are not ruling out possible equipment failure, although that will not be known until their investigation is complete. Once again, the Jefferson Herald completely missed the story, and ran as their lead story a tree-planting donation.

As photos indicate, the plane went down nose first into an area of the crowded cemetery. Fortunately, no visitors were in the immediate proximity at the time. However, what was presumed at first to be a minor accident has been upgraded to perhaps one of the most prolific air disasters of all time.

The local sheriff's department has taken charge of the investigation, and has discovered that the human tragedy involved is indeed profound. As of our latest information, at least 200 bodies have been determined to have perished in the crash. When the pilot , who miraculously survived the accident, was questioned, he was completely perplexed. "I could have sworn that I was the only passenger on that plane. And all that happened was I blew a tire. I simply cannot explain all this carnage."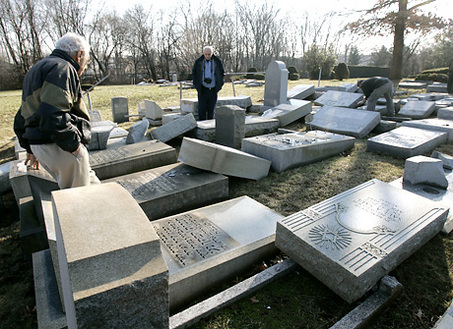 Local authorities continue to dig in the direct vicinity of the crash, and although they have found bodies, it has become apparent that no one survived the carnage.

The impact left a wide field of wreckage, and bodies have been found several hundred meters from the point of impact. It is hoped that the death toll will not rise much further. Cadaver dogs brought to the scene are still locating additional casualties as this story is written.

Victims' names are being withheld pending DNA testing and notification of family members. More details will be published as they become available.




Rick Bland, 08-04-2008



D