The Jefferson Iowa News®
Berrizag Blizmarraak, jeffersoniowanews' oldest and most established backer and advertiser, has featured prominently in our website. Our staff is proud to acknowledge Mr. Blizmarraak as perhaps the most forward-thinking member of the current Jefferson city council and chamber of commerce. Mr. Blizmarraak continues to lead the way into the 21st century for Jefferson, it's residents, and it's civic leaders.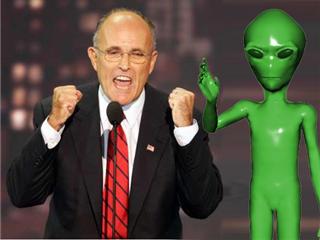 Berrizag arrived on the scene in Jefferson just a few short years ago, but almost immediately thrust himself into the pulse of this small, innovation-starved community. He has become an outspoken spokesman for many controversial causes, including immigration, community beautification, and local politics. Mr. Blizmarraak is especially proud of his efforts in backing the candidacy of former New York mayor Rudy Guiliani in his bid for the presidency (photo).
Starting from scratch, he put together his locally-based company, Blizmarraak's Rain Gutters, which in a few short months has grown to become Greene County's largest supplier of rain gutters, among companies which offer rain gutters as their only product. He has accomplished this by offering only the highest quality steel gutters, which he proudly backs with an iron-clad five-year guarantee. Recently, he has discovered the additional benefit of galvanizing his products, which he proudly proclaims in his latest ads.
"Originally I assumed galvanized products created a seemingly new source of metal never before seen in the area I originate from. It was assumed that this new metal alloy may be useful when applied to your primative weapons systems. It is now fairly obvious that iron, although unique to the galaxy from which my people originate, is structurally inferior to virtually anything I have observed in building matter. It is apparently only good for the construction of useless and cosmetic items such as rain gutters, which I am at a loss to understand why people buy. At some point I hope to exhaust my supply of this useless material. Please stop in at our location in downtown Jefferson and remove this material for the specified price. Remember that this product is guaranteed to last for five earth years. Anyone who doubts the benefits of galvanization need only look at the heaping wreckage of destroyed farm implements currently piled in front of the Jefferson public library. This communication is now over."
Rick Bland, contributor