Spare Time Lanes - Family Fun Since 1998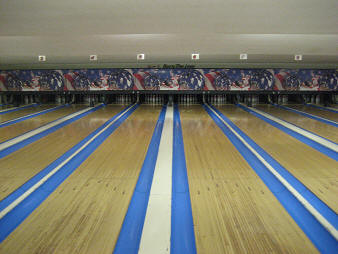 Operating a bowling center in a small town is not always easy. Just ask John and Vickie Woodford, of Jefferson. They have operated Spare Time Lanes since purchasing it in 1998. At that time, the building was in quite a state of disrepair, and it had to undergo extensive rennovation, such as new electrical wiring, a new roof, and plumbing upgrades. On top of that, bowling alleys require constant maintenance and upgrading as well. The Woodfords have added automatic scoring, new gutters, pins, and other new improvements which add to the quality of your bowling experience.

Things didn't come easy, or cheap, but John and Vickie so enjoy the sport of bowling and the chance to work with the community that they pushed ahead and overcame the obstacles. With them, bowling is a passion. John has bowled on the professional tour, and has been able to attract well-known pro bowlers to town, including Pete Weber, who spent an entire day at Spare Time Lanes, meeting the public. Their business has blossomed at a frenetic pace, to the point where they now host leagues five nights per week, and several major bowling tournaments. They also have pool and dart leagues.

The book "Bowling Across America" by Mike Walsh has an entire chapter devoted to Jefferson and Spare Time Lanes. They have recently entered the electronic media by way of facebook, and invite everyone to visit their facebook page and become a fan. League information and upcoming events will be posted on their page.

Along the way, the Woodfords had to overcome public perceptions regarding their location and business. Previously, their building (118 S. Chestnut) had been home to taverns where problems had arisen, and the owners had not taken care of the site. They stress that they look forward to working with the Chamber of Commerce in promoting their business, and Jefferson. Spare Time Lanes almost undoubtedly brings more out-of-town patrons to Jefferson than any other place that comes to mind. As it now stands, the bowling center is an excellent place for the youth of Jefferson to spend their free time.

I have to say, while sitting down and talking with John and Vickie, it becomes obvious that there is so much going on here that it is nearly impossible to include everything in one short article. Not only do we need to mention bowling, darts, and pool, but how about karaoke, bands, entertainers, holiday parties, arm wrestling, Super Bowl parties and almost any other event you would like to have? Just give them a call, and they'll make it happen. In addition, there are pinochle games going on every afternoon, and Vickie cooks up a big homemade meal every Sunday afternoon and brings it down to the bowling center for everyone to enjoy.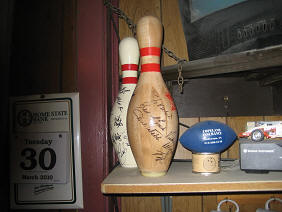 Some of the bowling tournaments that Spare Time Lanes sponsors are:



Iowa State Women's 600 Club Doubles and Singles Tournament

- three weekends in October, with hundreds of bowlers and spectators from all around Iowa


Family Doubles District Tournament

- parent/youth teams compete for a chance to advance to the state finals, usually around 100 participants


Pepsi Youth District Tournament

- for all youth bowlers, with a chance to advance to the state level and win scholarships, normally 60-80 participants


Elks State Bowling Tournament

- Elks Club members only, every four years. Running over 4 weeks in the spring, anywhere from 300-500 participants plus spectators


Central Iowa Bowling Proprietors Travel Tournament

- Anywhere from 100-150 bowlers from central Iowa vie for the chance to advance and earn large monetary prizes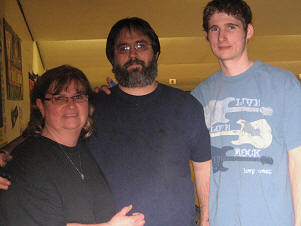 In addition, smaller tournaments are held, such as their

New Year's Eve Annual 9 Pin Tournament

(50-80 bowlers from around the state), and the

Greene County Local Tournament

(50-60 bowlers from the Greene County area).

Both John and Vickie absolutely love the community and enjoy the opportunity to bring fun and pride to Jefferson. They took the time to discuss the history of their establishment with us. The building that serves as Spare Time Lanes was constructed in 1946, and was home to an elegant, up-scale dress shop for several years after WWII. After changing hands, it eventually became the Gold Carpet Lounge, which many of us older Jeffersonians will remember. At that time, a roller skating rink occupied the back part. More recently still, some will remember The Tropical Storm, a disco-style night club with a dance floor that was located there. Somehow, Spare Time Bowling seems a perfect fit in the evolution.

For information regarding leagues, parties, open bowling availability, or anything else, just call John or Vickie at 515-386-9119.

submitted by Rick Bland, city editor