Jefferson Cracks Down On Speeders


According to local sources, the city of Jefferson has set several goals to improve the safety and quality of life within the community over the next twenty years. Among these goals are the continued safety of traffic flow in Jefferson especially in regards to pedestrians such as the elderly and school children.

As our editors read it, city leaders are considering lowering the speed limit to 25 along highway 4 throughout town, stating that it is rare to find a driver exceeding that speed - at least a local one. Local residents have repeatedly voiced their opinion that anything over 25 is simply too fast and unsafe. This speed limit may well grow to apply to travelers along Lincolnway as well.

In addition, a common complaint from the citizens of Jefferson has been that too many intersections throughout town are unsafe as they are completely devoid of signage designating the right-of-way. Under new proposals, all intersections within the Jefferson city limits will be marked with stop signs. Some may be two-way; most four-way.

All exits from nursing homes and assisted-living sites will be marked with stop lights. Traffic downtown will also feature stoplights, as locals feel that the crush of vehicles is simply becoming unbearably unsafe.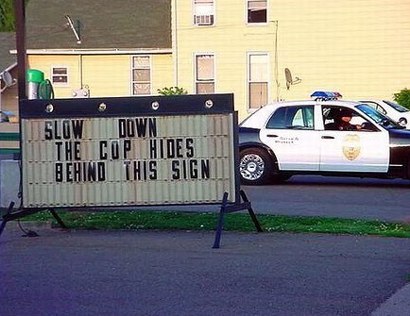 The local police force has been asked to begin enforcing all speed limits without exception. The photo at left shows a typical Jefferson speed trap, where local law enforcement officials will be able to closely monitor traffic undetected. Enforcement of these codes not only creates a safer environment, but brings additional revenue into the city's coffers.

Local construction crews are currently bidding on jobs which will become available upon the adoption of these plans. For instance, nearly 3,000 new speed bumps will need to be created. The goal is to slow Jefferson down into the 21st century.



Rick Bland, 01-31-2009