Local Bar Owner Introduces "Butt Hut" for Smokers



Jefferson Iowa News' last foray through Jefferson brought us to Wet Goods, a local restaurant and bar owned by businessman Dave Redfern. We stopped there at noon for lunch, and it was excellent, as usual. As you are probably aware, recent changes in Iowa law have made smoking illegal in businesses such as Wet Goods. However, Mr. Redfern has truly gone the extra mile in an attempt to accommodate his clientele who still smoke.

At virtually all Iowa businesses, groups of people can be seen intermittently standing outside, braving the elements, lighting up. What Dave did at Wet Goods was construct a "butt hut" located in an alley outside the back door, sheltering his smokers from the weather. Customers can take their drinks into the hut, and ashtrays and tables are provided.

The "butt hut" is built of nothing but the most sturdy materials, and it is quite obvious that several days and several thousand dollars were invested in the construction of this unique addition. Local resident and bar patron Jack Wilson spent approximately three weeks building this structure, making sure that it complied with all appropriate zoning ordinances and building codes.

It is predicted that many people from Jefferson will simply drop by to visit the "butt hut" and forego the atmosphere inside at Wet Goods.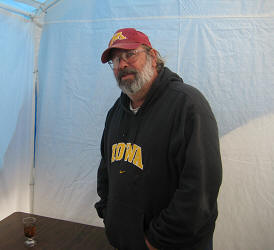 While we were visiting, we were lucky enough to run into local vampire hunting legend Monte Larsen, who was sipping on a drink while scoping out the construction of the "butt hut". Larsen is coming off a vampire-hunting season in which he once again bagged his limit, making Jefferson a safer place for all (photo at left).

This is the first instance of a bar owner actually spending his own time and money taking care of the needs of his smoking customers in this way. Monte stated that the formidable cost of the project will more than likely be offset by passing it along to the consumer by way of higher drink prices, or perhaps a cover charge (for the butt hut, not Wet Goods).

Our readers should all check out the butt hut when in Jefferson, and stop by to say hi to Dave or Monte while there. They are currently watching closely to see if the legislature or local authorities pass further ordinances closing places like the butt hut, forcing people outside again into Iowa winter weather.

Submitted by Spencer Straight (11-17-08)