Undead Causing Concern For Jefferson Residents

As Halloween approaches, Jefferson has once again been set upon by a spate of undead sightings around town. In normal years, the problems have been minor. However, for some reason this year these appearances are getting totally out of hand.

Several concerned citizens have complained that many of their dead relatives have showed up on their doorstep and decided to move back in. These residents don't always have room for their loved ones and with the ailing economy are at their wit's end as to how to cope with the additional folks.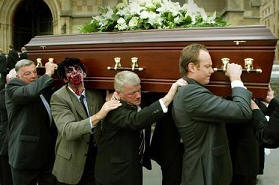 It got so bad recently that last Saturday morning, Elmer Jensen was laid to rest by the folks at Slininger's funeral home
b
ut photos clearly show him present as a pall bearer for another resident's funeral later that afternoon!
(See exclusive photo at left)

The Jefferson police department's cadaver dog unit has noticed huge problems with their dogs. An unidentified officer stated, "Last week it took us almost two days to find the proper owner of an arm one of our dogs brought in. See Jake over there? I don't think he has slept more than an hour since this problem started. All those undead walking around drive him nuts. Poor boy."

They have been spotted downtown, wandering aimlessly through the business district. Local restaurant and bar owner Dave Redfern, for one, is not bothered in the least. "We have plenty of room for those undead folks. I'll just make Tim Kious move down a stool or two at the bar. We will happily serve the undead."


submitted by Rick Bland, city editor