Giant Crawfish Captured at Hyde Park

Rural Jefferson resident Warren Finley managed to catch a record-setting crawfish last week at Hyde Park while searching for bait. The monstrous animal measured in at over three feet in length and weighed exactly 14 pounds. This far and away surpasses the previous world record of 13 inches and 14 ounces.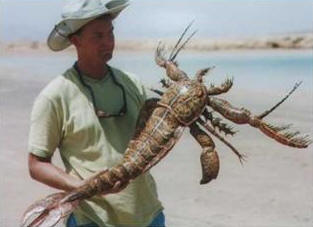 If you'll remember, it was Warren's now handicapped uncle who caught the record bass last year at McMahon Access, which was documented by reporters from Jefferson Iowa News. The Finleys have invested several generations in water sports and angling and are now reaping the benefits as well as the notoriety.

Mr. Finley told JIN staff that normally he catches these creatures for use as bait by simply wading through shallow parts of the river and overturning rocks. He can usually just pick them up as they try to get away. This particular crawfish caught him off-guard, however, as it seemed to move the rock by itself, and proceeded to remove three of Mr. Finley's toes with his large claws.

When Warren reached for the monster, it quickly snapped off his left arm at the elbow. Fortunately, his mother was there, and was able to corral the creature in her chain-mail apron.

When asked what one does with a three-foot long crawfish, Mr. Finley adamantly stated that it would be used as bait, as larger prey awaits. He is confident that where bait of this size exists, even more impressive creatures also lurk.

Doctors at the Greene County Medical Trauma Center were able to reattach Mr. Finley's arm after several hours of intense surgery, although his toes have been lost. He may never regain complete use of his left hand, but seemed unconcerned, as he does most of his fishing right-handed.


submitted by Rick Bland, city editor